Jake Gyllenhaal
has shocked his fans after pictures emerged of his
extreme weight loss
.
The star has also come under fire for his aggressive behaviour, including punching a mirror in a fit of rage on the set of his latest movie.
After this incident, 32-year-old Jake was rushed to the emergency room to have stitches in his hand. Ewwww.
Jake is filming the final scenes for thriller,
Nightcrawler
, which required him to lose a shocking amount of weight from his normally bulky frame. In it he plays a freelance reporter who stumbles upon the dangerous criminal underworld of Los Angeles. Oooohhh ahhhh.
Movie bosses say he has lost roughly 20lbs (1st 4lbs), but insiders claim the actual amount is much higher.
When asked about his dramatic makeover, Jake told
Us Weekly
, "It takes place in a land where I think there is a desert in a lot of ways, great opulence, and at the same time, great vastness and emptiness. I knew that [Lou] was literally and figuratively
hungry
."
Talk about dedication to the role!
But Jake isn't the first hot
Hollywood male
to starve himself in the name of film making. Just check out Christian Bale in the picture below (yes that's
Batman
) to see the punishment he put his body through...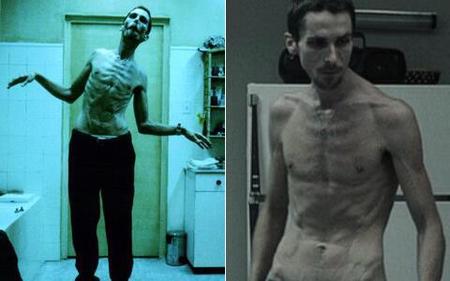 Check out how much weight
Matthew McConaughey
lost to play an
HIV positive
drug dealer in his latest movie,
Dallas Buyers Club
...
We can't begin to imagine how much damage this extreme
weight loss
is doing to their bodies. Some doctors have even suggested
Tom Hank's recent Type 2 diabetes
diagnosis could have been caused by his
extreme dieting
for roles, especially his critically acclaimed stint in
Castaway.
What do you think? Is it worth the risk to make an amazing movie?
WOMEN AT SPIN CLASS FIGHT TO WORK OUT NEXT TO JAKE GYLLENHAAL
8 FICTIONAL BOYS THAT WOULD HAVE MADE HIGH SCHOOL BETTER
MORE DIET AND FITNESS NEWS