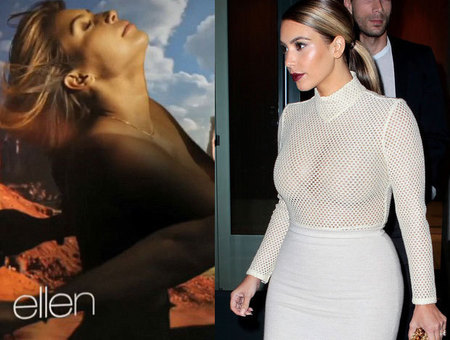 Once you get past the
boobs
and the wild horses and the motorbike sex session that is
Kanye West's
Bound 2
music video, the casual observer (*pedantic examiner*) may notice that
Kim Kardashian's
waist is looking teeny tiny.
Now critics are fuming that new mum Kim has digitally altered her figure in post-production instead of showing the world her
actual
body, which, let's face it, is pretty bangin' to begin with.
Don't believe us? Take a look at the two pictures of the 33-year-old reality star above and see for yourself.
But Kim isn't the only celebrity to come under fire for airbrushing recently.
Miranda Kerr
was forced to publicly apologise after posting an image of her drastically slimmed down waist on
Instagram
, even though the
real
image was available elsewhere on the internet.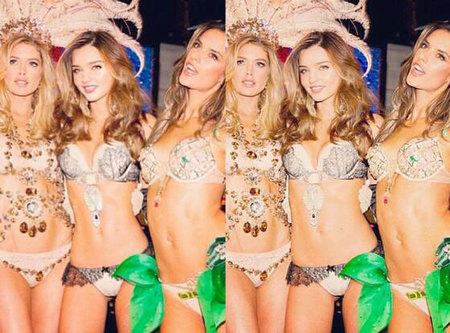 Epic fail! She swiftly deleted the image and took to
Twitter
to clear up any confusion with her followers. She admitted...
"Hi guys, here is the original VS image! When I re-posted the photo this week to support the girls I screen grabbed it off the internet when I was working in Japan.
"I had no idea it was photoshopped. All good intentions- sorry for the confusion and congratulations to the girls for such a great show! ❤"
At least
Miranda
didn't mean to make her already tiny frame even tinier...but why didn't she recognise that her proportions were off in that snap?
At least Kim and Miranda haven't resorted to body doubles like these ladies...
Do you think Kim and Miranda should take a stand on Photoshop?
KIM KARDASHIAN'S WHITE LACE & BLACK UNDERWEAR - TOO MUCH?
KIM KARDASHIAN'S ODE TO HER POST BABY VAGINA
MORE HEALTH AND FITNESS NEWS