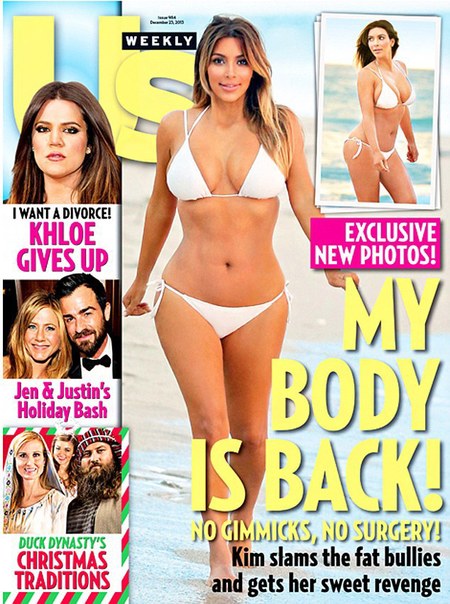 Before we begin, let's just get this out the way -
Kim Kardashian
, you look amazing. Big claps all round.
The
reality star
has been 'papped' nonchalantly strolling along the beach in a white string bikini, showing off her post-baby bod.
Of course, Kim K and her reps claim that they knew absolutely nothing about it and the feature is unauthorised. Come on now Kimmy - we ain't buying that. So just move along sister.
But massive porkie pies aside - she does look incredible and we fully respect her campaign to:
a) Stick a middle finger to the
fat shamers
who were pretty mean about her
pregnancy weight gain
b) To prove being a hot tamale and a mum are not mutually exclusive.
However according to
Fox News
, the 'unauthorised' snaps have been airbrushed.
An expert told the site, " [Her] waist doesn't look normal, especially compared to all of the other full body bikini photos of her."
We're sure they're right - but spoil sports.
Worryingly, Kim K is reported to say of the snaps that they were 'ok' but she
still has 10 pounds
to lose before she's happy.
What a shame. Perhaps you should see what the nice people of
Twitter
are saying Kim K...
If @KimKardashian's new bikini pics isn't a big eff you to all the people that called her fat then idk what is

— Rachna (@Rachna489) December 12, 2013
Kim Kardashian's hot body is back

— karla (@lissete_) December 12, 2013
@eonline She is perfect and I love her so much! X

Kiara Kardashian(@khloesirishdoll) December 11, 2013
Thoughts about Kimmy's cover? Tweet us
@handbagcom
KIM KARDASHIAN QUITTING TWITTER?
CAN CELEBRITIES EVER JUST BE NORMAL MOTHERS?
MORE CELEBRITY DIET NEWS