A new app
called
Sickweather
is causing us a little bother in the office today.
Doing what it says on the tin, it tells you
what illnesses
people have around you in your given area.
We don't need
any more hypochondriac enabling
, thank you very much.
But how does it work, we hear you ask?
It culls
your Facebook and Twitter ramblings
about being poorly and adds them to a load of other peoples' to make a slightly terrifying sickness map.
Users of the app can click into one of the sickness categories to see where, in real time, people are suffering from a specific kind of illness as well as report them through its interface allowing you to tattle on that bus sneezer.
That'll make you clutch
your antibac gel
that bit tighter.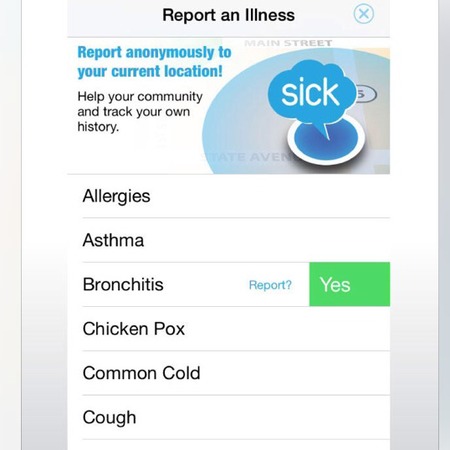 What's to stop people from
overreacting about illness
? Why would anyone report a cold? Could this not lead to
all sorts of crazy
misdiagnoses?
As you can see we have just a few questions.
Featured as a 'best new app' in
the fitness
category by Apple must mean that they're doing something right though.
Will you be getting this health aware app? Tweet us
@handbagcom
SHOULD YOU WORK OUT WHEN YOU'RE SICK?
THIS IS WHAT HAPPENS WHEN YOU GIVE UP SUGAR FOR A YEAR
MORE HEALTH NEWS
LOTS MORE ON HANDBAG.COM