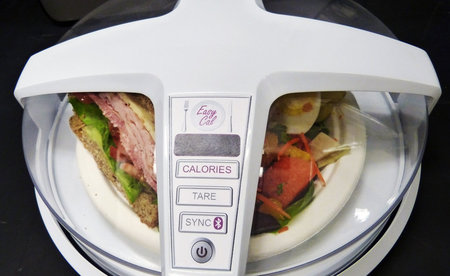 Waisting hours checking the
nutritional info
during your
weekly food shop
at Tesco may become a thing of the past thanks to a new
calorie counting
device.
The as yet unnamed machine by American brand General Electric allows you to
measure calories and energy levels
in your food before you eat it.
All you need to do is place your plate of food in it and it will tell you, making
healthy home cooking
that bit easier.
Although we're note sure what you're meant to do if it turns out
it's high in calories
. Throw it away perhaps?
General Electric cell biologist Matt Webster explained to
Morning Edition
how it all works: "We have the weight of the food and the proportion that's water and
the proportion that's fat
, and from that information, we can estimate calories."
However, the machine is still in the
testing phase
so it might be a while before it hits stores.
We'll stick to the
diet and exercise apps
for now.
Best celebrity bikini bodies
Tweet us your thoughts
@handbagcom
10 HEALTHY HOMEMADE LUNCH RECIPES
5 GREAT DIET AND FITNESS APPS
MORE HEALTH & FITNESS NEWS