Millie Mackintosh
has shown off her healthy chia seed, blackberry, flax seed and coconut water smoothie recipe on her blog.
The bride-to-be also admitted to being a fan of 'Vital Greens' - an enzyme-rich supplement that contains 75 different nutrients to keep you feeling energised, focused and alert.
Great stuff!
So what exactly
is
'Vital Greens'? Well, it's a powdered blend of leafy greens, veggies, fruits, herbs, powerful antioxidants, prebiotics and probiotics, fatty acids and alkalising pea proteins. Basically, everything that's good for you blended together! Millie recommends it for anyone who's going to give detoxing a try.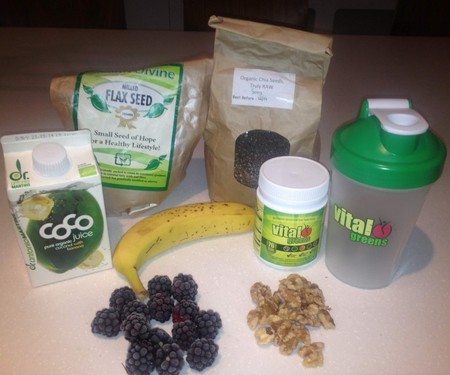 Want to give Millie's smoothie a try? Take a look at the ingredients below...
INGREDIENTS
1 scoop of Vital Greens
1 banana
Handful of frozen black berries
Tea spoon of Chia seeds
Handful of walnuts
Tea spoon of flax seeds
1 doctor martins coconut water
The
Made in Chelsea
star reckons one of these juices every morning will detox and cleanse your colon and liver and eliminate waste products in the gut, maintain healthy cholesterol, ease high blood pressure, boost your immune system, reduce stress, power your brain (with Lecithin, Rosemary and Co-Enzyme Q-10) and support better cellular function.
Gotta' be worth a try, right?
Visit Millie's blog
here
and check out Vital Green for yourself,
here
. Take a look at some more celebs who love healthy juices in the gallery below...
What do you think of Millie's recipe?
VICTORIA BECKHAM'S BREAKFAST CRONUTS
BABY LIZARD FOUND IN MCDONALD'S MCMUFFIN
PROFESSOR GREEN OPENS LONDON NIGHTCLUB