It's a new year, and for many that means one thing: time to work out.
So, for anyone who spent most of Christmas watching people like
Jennifer Lawrence
in
The Hunger Games
, thinking, "when I finally do get up off this sofa I'm going to do that!" - kickboxing is the perfect choice.
What kickboxing involves
Although it is understandable to be apprehensive, no one will expect you to know what you're doing, especially if you're on a beginners' course. A basic level of
fitness
is helpful but you will certainly find yourself using muscles you didn't realise you had.
The classes are based around learning technique and building up strength.
There are a serious of conditioning drills, including A LOT of squats, as well as punching and kicking combinations, both alone and with partners. These get more complex as the weeks go on.
There is no sparring and all contact is made with coordinated padding from your partners. So, unless you have a crazy accident you won't be leaving with bruises...just a very achy bottom.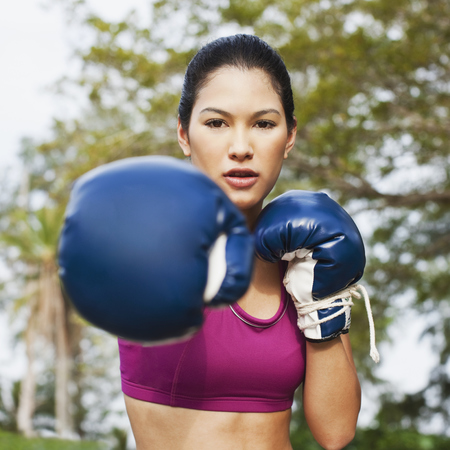 Give it a try if:
You want to build muscle and flexibility but hate the idea of anything too zen. This workout is great for people with pent up 'stuff' who get little to no kick out of pounding the treadmill.
Give it a miss if:
If you really don't have any 'fight' in you, this probably isn't for you. Also not one for those who don't like looking sweaty and gross in front of strangers.
What to wear:
Those who've been members of a kickboxing gym for a long time will have branded kit (it becomes a requirement of grading).
For beginners you can wear your usual
gym attire
, depending on preference. I wore leggings with a lose fitting t-shirt but some wore yoga pants and tight vests.
One thing to know - you won't need shoes, but you will want water and a towel.
Calories burnt:
You are somewhat in control of just how many
calories
you burn. You're in charge of the intensity of your workout. On average, depending on weight you can burn between 600-800 calories in one hour.
Cost:
£133, for an 6 week beginners course at
Springhealth Gym
.
Location:
Springhealth Gym
, 400-404 York Way, Islington, London, N7 9LR
LOOKING GOOD AT THE GYM? NO SWEAT WITH THIS LOT
17 THINGS TO DO INSTEAD OF DIETING
MORE IN DIET AND FITNESS