Whether you're trying to
shift some extra pounds
to
get bikini ready
, or just want to reach a new level of fitness. BEAT is certainly one way of doing that.
So, if you're not afraid of sweat, don't have a lot of time and need some help to push yourself that extra bit, this may be your dream
workout class.
What BEAT involves
BEAT is an intensive workout designed to get
your heart rate
up and constant.
Depending on the class you visit, the target heart rate will be different but the general idea is the same.
Before you arrive for a session, you'll have given your details so a heart rate monitor will be set up ready for you to collect.
Wearing it at all times, you will be able to see how you're doing throughout the class.
The workout consists of a combination of cardio work using the equipment and floor work all designed to keep your heart rate at the desired percentage for the class.
By visiting week on week you will receive an email tracking your progress.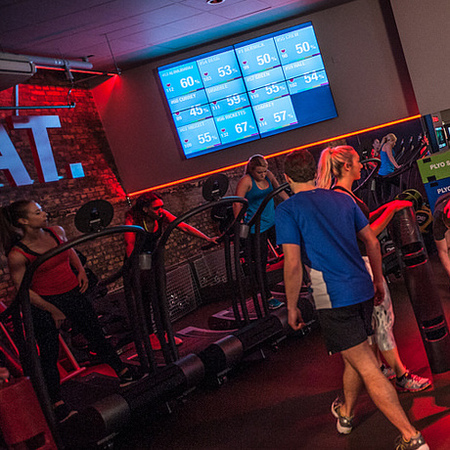 Give it a try if:
You want to boost
your heart health
and lose some weight. If you like the idea of pushing yourself and getting a real sweat on, this is for you.
Give it a miss if:
If you really don't like peppy gym people spurring you on at all times. Similarly darkened rooms with intense trance, gym music. Remember the plus point of the dark is of course the
sweaty nature
of the situation.
What to wear:
You can wear your usual
gym attire
, depending on preference. I wore leggings with a lose fitting t-shirt but some wore yoga pants and tight vests.
You will want trainers as you'll be using the equipment as well as working on the mats.
Cost:
From £60-100 per month depending on membership type.
See full list.
Memberships can be bought for either just the BEAT gym and neighbouring Fitness First on The Strand, or multiclub memberships can be bought for £20 more. This will enable you to use any Fitness First gym in addition to BEAT.
Location:
Fitness First, Charing Cross, Concourse level, 1 Embankment Place, London, WC2N 6NN.
See full details at
fitnessfirst.co.uk
FITNESS CLASS ON TRIAL: KICKBOXING
SHOULD YOU WORK OUT WHEN YOU'RE SICK?
MORE GYM AND DIET REVIEWS