What is LifeScore?
LifeScore is a health and fitness assessment created by the 37 Degrees gym.
It offers an in-depth look at your body and how you can use that to improve your health, and reach your
weight loss and fitness goals.
Do you know how your gait's doing, what about your
visceral fat
? Yeah, we didn't either...
What did we learn?
After a series of almost entirely non-strenuous tests and activities (the hardest part is doing as many sit ups and push ups as you can), they tell your about your fat and
muscle content and strength
, hydration levels, posture and gait.
Our writer and gym regular was told in no uncertain terms, her posture sucks. In addition to
bad posture
she's also got a near alarming amount of visceral fat - that's the fat you can't see, that hangs out around your internal organs. Very
bad fat
.
Positive results included an overall percentage fat level on the lower end of the normal spectrum and surprisingly decent
levels of hydration.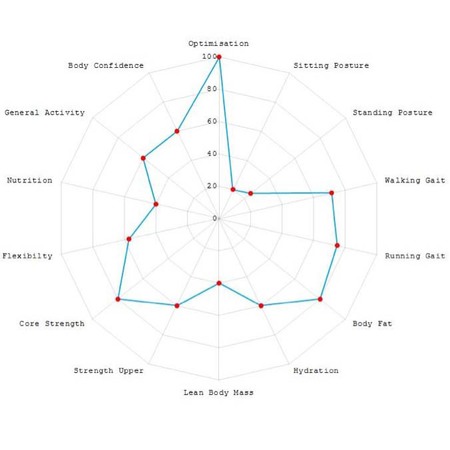 Why is it useful?
Fundamentally the test shows you things you can't see; clearly despite working out regularly it seems the
sugar filled diet is still having an impact.
In addition to this, although the sloucher was far from surprised to hear her
posture was poor
, what was interesting was just how much this affects everything else.
From digestion to
core strength
, it something that needs fixing.
That's the other thing about LifeScore, it doesn't just tell you what's wrong, it tells you how to fix it.
Pilates
are apparently the answer.
When, where and how much?
The LifeScore test takes place at the
37 Degrees gym in Tower Bridge
and last around 40 minutes.
It costs £150 to non-members but is totally free to gym members. The benefit of this being that they can track your how your LifeScore changes over months with changes you make to your workout.
In addition to that map, you also receive an email with a full document of your bodily statistics and notes.
For full details or to book an appointment, visit
thirtysevendegrees.co.uk
5 PEOPLE TO FOLLOW FOR WEIGHT LOSS TIPS
WE'VE TESTED THE BEST RUNNING TRAINERS AROUND
MORE GYM AND FITNESS REVIEWS