When we saw
Chanel's Autumn/Winter 2014 show
we were on cloud nine; the
shopping basket handbags
, the
couture trainers
, and the amazing tweed filled mega-ponytails on models like
Cara Delevingne
.
We we absolutely loving the whole thing - even
Rihanna's bum bag
got us excited!
So, as we couldn't get our hands on any
Chanel
themed 'shopping centre' swag, we thought we'd give the Sam McKnight ponytail creations a bash.
How to recreate the Chanel ponytail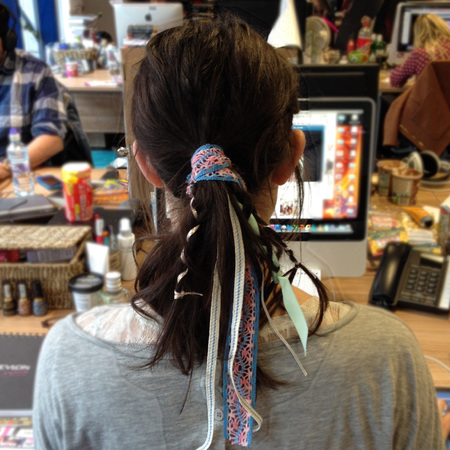 With strips of Chanel tweed at an all time low in Handbag HQ - where does it all go hey? Like socks in the washing machine - we tried it with a selection of ribbons.
To keep it on trend we opted for some
pastel colour
combinations.
Skipping on the extensions - we were trying to keep it as low maintenance as possible - we attached the ribbons with non-slip grips as well as just through the hairband of the
ponytail
.
Some were plaited into the hair, just like at Chanel.
The Verdict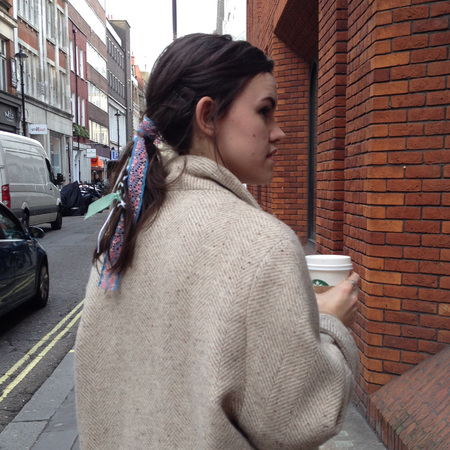 The ponytail got road tested in various places and once past the initial cheerleader feeling it felt quite cool.
The biggest, brightest ribbon was the most difficult to get on board with - trying it without that was much easier going.
People will look - you have ribbons all up in your hair.
So, as long as you are
happy with the youthful vibes
that go hand in hand with that, and you're comfortable looking like you spent a while getting ready, give it a go.
If you try it out we'd love to see a picture - tweet us or
Instagram
it
@handbagcom
FASHION TRIAL: HOW TO WEAR UNDERWEAR AS OUTERWEAR
CHANEL'S SHOPPING CENTRE OF DREAMS
MORE FASHION TRIALS AND HOW TOS
MORE FROM HANDBAG