You can get away with pretty much any look at a festival. The more outlandish your outfit is, the better. That's why there are
certain festival looks
that just don't cut it in real life and need to come off when the wristbands do.
Rita Ora and
Vanessa Hudgens
show us the trends you'll be raving in this summer, then storing away until
next year's Glasto
.
The trend: Granny Maxi Dresses
We're all for a
gorgeous maxi dress
but Paris Hilton's grandma dressing gown just doesn't work with
navigating the Tube
at rush hour and blustery winds on crowded streets.
The Trend: Bum bags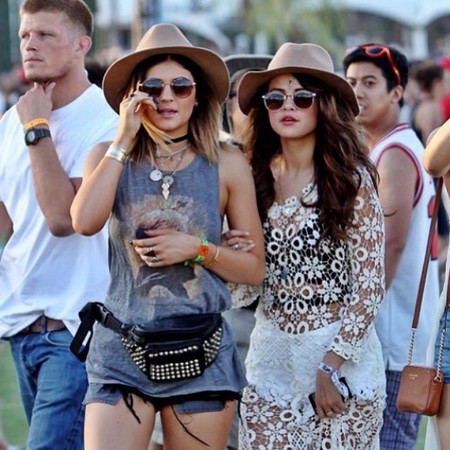 Kylie Jenner's
bum bag is leaves both hands free
for dancing and Instagramming. Whether the bum bag has a place in
real life is hotly debated.
Most of you said that its convenience doesn't make up for the fact wearing one makes you look like a guidebook toting tourist.
The Trend: Printed Bell Bottoms
Few pieces are more peace and love
festival-friendly
than a pair of high waist printed bell bottoms.
In real life, flares are slowly making a comeback but we're still too obsessed with skinny jeans and
90s denim
to see
Kendall Jenner
's bell bottoms for anything other than fancy dress.
The Trend: Novelty sunglasses
We love a pair of
statement sunglasses
but for every day we want a pair that shields our eyes, not our entire face.
Cara's cat eye shades work for in real life but Poppy's are best left for the VIP area or a
themed hen do.
The Trend: Sheer Dresses
Outside of the festival grounds, there are few occasions when it's appropriate to flash your pants and
wear a sheer top.
If you want to show some skin like Rita Ora,
stick with a crop top.
The Trend: Excess embellishment
When it comes to festival accessorising, more is definitely more.
There just isn't time in the morning to put on Sarah Hyland's watch, bracelets, rings, necklaces, eye gems and headband, and make it to work on time.
The Trend: Swimwear as clothing
It's practical to wear your swimsuit to a festival because you probably won't get a
proper shower
unless you're in the VIP area or if it rains. In real life, stick with wearing your bikini only when you're at the beach.
Thoughts? Tweet us
@handbagcom
Best festival fashion at Coachella 2014
CELEBRATE CANNES WITH A LOUIS VUITTON CANNES BAG
THE 10 BEST FESTIVAL BAGS
MORE FASHION ADVICE