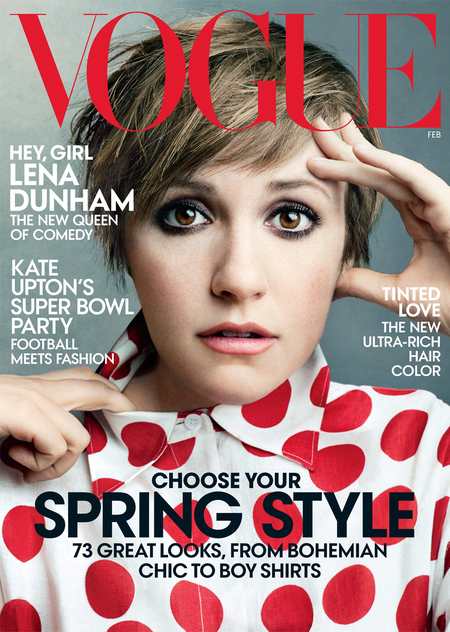 If you've not been following, here's the
Lena Dunham
/
Vogue
/
Jezebel
airbrushing debacle, summarised into just two sentences for you.
1. Lena Dunham posed for
US Vogue's February cover shoot
, people accused the mag of airbrushing the life out of her, then website
Jezebel.com
requested
the unretouched images
(for the bargain price of $10,000) from photographer Annie Leibovitz and
Vogue
boss Anna Wintour.
2. The unretouched pics reveal Lena was photoshopped a bit, though not extensively, and there's debate over whether
the pigeon
really did sit on her head, though the killer question is this - have Lena's 'this is who I am, deal with it' principles been compromised?
Jezebel
says yes.
Vogue
of course says no, and has taken to Instagram to prove the pigeon point.
Slate.com
however, who Lena spoke with to hit back at the controversy, also seems to think yes.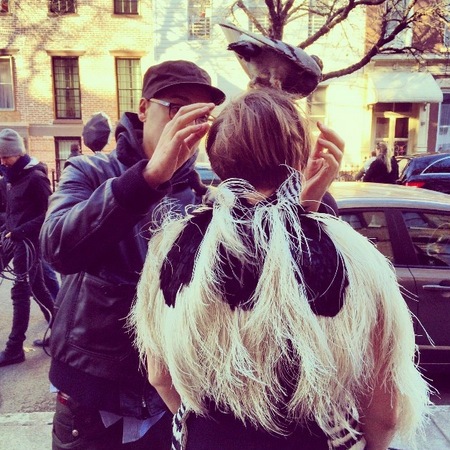 So here's what Lena has said on the issue. After her two initial tweets that is, which were very blunt and very funny.
Some shit is just too ridiculous to engage. Let's use our energy wisely, 2014.

— Lena Dunham (@lenadunham) January 17, 2014
Lena Dunham responds to Vogue airbrushing
"I understand that for people there is a contradiction between what I do and being on the cover of
Vogue
; but frankly I really don't know what the photoshopping situation is, I can't look at myself really objectively in that way.
"I know that I felt really like
Vogue
supported me and wanted to put a depiction of me on the cover.
"I never felt bullied into anything; I felt really happy because they dressed me and styled me in a way that really reflects who I am. And I felt that was very lucky and that all the editors understood my persona, my creativity and who I am.
"I haven't been keeping track of all the reactions, but I know some people have been very angry about the cover and that confuses me a little.
"I don't understand why, photoshop or no, having a woman who is different than the typical
Vogue
cover girl, could be a bad thing.
"A fashion magazine is like a beautiful fantasy.
Vogue
isn't the place that we go to look at realistic women,
Vogue
is the place that we go to look at beautiful clothes and fancy places and escapism.
"And so I feel like if the story reflects me and I happen to be wearing a beautiful Prada dress and surrounded by beautiful men and dogs, what's the problem?
"If they want to see what I really look like go watch the show that I make every single week."
So what do you think? Does Lena have a point? Or should she have put her foot down, and said no to the airbrushing?
Tweet us your thoughts
@handbagcom
LENA TALKS GIRLS, DANCING, AND JAMIE DORNAN
MINDY KALING REACTS TO ELLE MAGAZINE CONTROVERSY
MORE FASHION NEWS