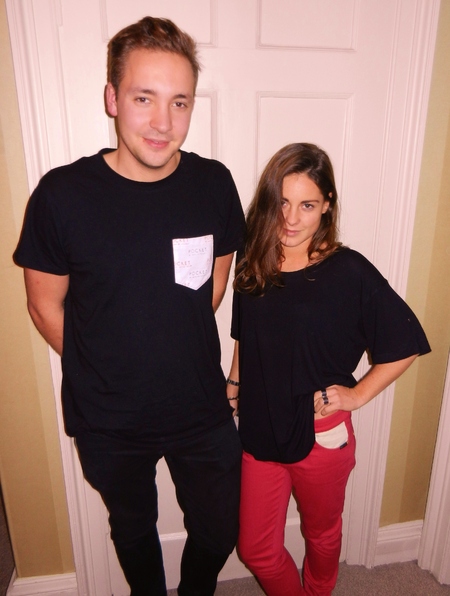 As well as juggling her time between Spencer and Edinburgh, Made In Chelsea's
Louise Thompson
has hooked up with friend Edward Page to launch fashion house Max De Courcy.
Having now introduced their first brand Pocket London, we caught up with Louise and Edward to hear more about the debut jean collection.
Louise also talks about not following trends, her style crushes and Made In Chelsea. Enjoy!
Hi guys, how would you sum up the Pocket London style in three words?
Edward: I would say chic, statement and iconic. Our aim with Pocket is to develop a line of jeans that can be the staple of any girl's wardrobe yet with the idea of the contrasting pocket, they will become a recognisable and iconic piece of clothing.
Which's your favourite pair from the collection?
Louise: I really don't have a favourite pair as I love them all, but if I had to pick one pair I would probably say the black with the contrasting white pocket, as these always look stylish and I can wear them to university, for filming and for a night out.
How does Pocket London fit in with your own style?
Louise: I think I have quite an eclectic style and don't like following trends. I tend to pick pieces that are quite simple yet can still really make an impact and stand out. That's why I love our jeans so much, the contrasting pocket really does stand out and makes you noticeable. I like to think of it as an everyday piece that makes you feel like the shepherd and not the sheep!
Edward: I think my style is quite laidback, although I do like to make an effort for special occasions. I'm looking forward to one day introducing a men's collection, pushing the usual safe boundaries for men's jean lines. I know it would encourage me to take more chances in fashion.
Can we expect to see any of the Made In Chelsea cast wearing the collection?
Louise: Absolutely! All the girls are so excited and have been behind Edward and I 100%. They have already seen me wearing them on nights out. It's great to know that the cast support us, as they all have such different styles on the show it will be interesting to see how they style up their Pocket jeans!
Who would you LOVE to see wearing the collection?
Louise: I would love Cara Delevingne to wear our jeans! She has such a cool style and always looks fantastic no matter what she's wearing. I think she would look amazing in one of the brightly coloured jeans, maybe the red or the blue.
Edward: I would love to see Kate Moss in a pair of Pocket London jeans. She is famous for effortlessly rocking a simple jean and heel combo and always looks incredible! Kate definitely embodies the London chic-style, looking stylish yet edgy and that is what we feel our brand definitely represents.
What can we expect from the brand in 2013?
Edward: We have lots of exciting projects lined up for the coming year. We will be introducing the brand to some major retailers here in the UK for AW13 and perhaps have a collaboration with another London-based designer later in the year!
OLIVIA PALERMO IS EFFORTLESSLY GLAM IN DIOR
MEN V FASHION: COMEDIAN JON RICHARDSON
CAROLINE FLACK LAYERS UP FOR WINTER WONDERLAND