Though far from being new, tag lines like
'strong is the new skinny'
and 'fit not thin' are fast becoming more popular. So is the fashion world ready to let go of
the super-skinny size zero
?
Possibly, yes. Though celebrities like Beyonce, Gwen Stefani, Jennifer Lopez and Cameron Diaz have long championed a
strong and toned body
over the skeletal look, there's now a new influx of support from a younger fashion-forward crowd.
Rita Ora, Ellie Goulding and Jessie J all regularly share snaps of their
fitness regimes on Twitter
, while curvy
Khloe Kardashian is doing her bit by loosing weight slowly
and sensibly through a squat-heavy routine.
Even the traditional skinny minnies of the modelling world like Miranda Kerr and Candice Swanepoel are turning to
strength training
, in a bid to improve their both their health and appearance.
Then of course
there's Millie Mackintosh
, who instead of slimming down for her upcoming wedding to Professor Green (if that would even be possible), has been
hitting the gym to shape up and tone up
.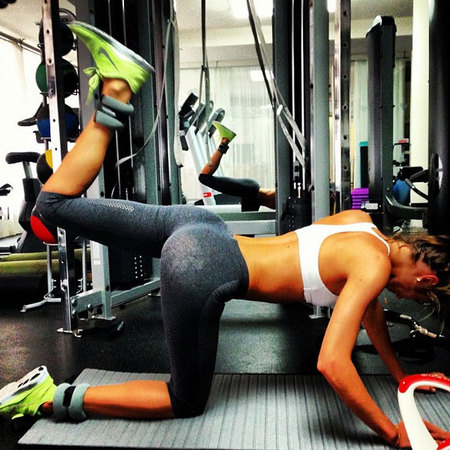 So why the sudden craze for health and strength?
Though the message has been bubbling under the social media surface for quite some time with
hoards of Tumblr, Instagram and Twitter accounts dedicated to celebrating female fitness
, the real turning point was the 2012 Olympics.
With heroes like Jessica Ennis bringing a new kind of inspiration to the fore, everyone went wild for getting in shape.
It's not just extreme athletic bodies that are setting an example however. Women like model Daisy Lowe, who's fronting
The Sundays Times
' new
Fit Not Thin campaign
, and Girls Aloud star Kimberley Walsh, are both encouraging women everywhere to stay a healthy size while exercising.
But if you're still not convinced that a change is coming, revisit the finale of Karl Lagerfeld's recent Chanel show at
Paris Couture Fashion Week
.
Who did he choose to close the runway? Why, a bicep flexing Erin Wasson of course!
Progress may be slow, and the ditching of fashion's super-skinny size zero well overdue, but we're very excited to see where this is going. Are you?
STRONG NOT SKINNY: THE CELEBRITIES SETTING AN EXAMPLE
FIT KIT: BODYISM LAUNCH AW WORKOUT COLLECTION
THE BEST CELEB WORKOUT 'HEALTHIES'
IS YOUR FITNESS REGIME RUINED BY POOR SLEEP?