Though we've fallen in love with
The Face UK
for a whole host of addictive trash TV reasons,
Naomi Campbell
's fierce manner and words of 'wisdom' are by far the best part.
Ready for a collection of her most terrifying put downs? Course you are.
Naomi Campbell's The Face UK one-liners
At the press launch for The Face UK.
'I'm a drill sergent. You know what kind of mentor I am. I like tough love.'
On the models she'll be mentoring.
'This is not a holiday camp; I'm very competitive. I'm not here to be their friends; I'm here to win... I've got 27 years' experience. That speaks for itself.'
Upon finding two of her #TeamNaomi models arguing.
'Okay, now I am really angry.' Be afraid. Be very afraid.
I'm sorry Chloe-Jasmine, but you have to be versatile and all we've seen is theatrics. This is @TheFace UK, not Annie or Cats. #TeamNaomi

— Naomi Campbell (@NaomiCampbell) October 14, 2013
A the start of espisode 3.
'I am very upset to be the first mentor to loose a girl. Caroline has it coming.'
To models in #TeamNaomi.
'Strong, heads up and walk.'
To a model in rehearsals.
'I don't want you to stop and talk to me. Just walk.'
Think Diva. Think Strong. Think Dramatic. Words of wisdom for this challenge and for life in general don't you think? #TeamNaomi @TheFace UK

— Naomi Campbell (@NaomiCampbell) October 14, 2013
To a model in runway rehearsals.
'You're walking like a horse.'
To a model following Naomi's request for a dramatic pose.
'No your arm looks broken like that. It's either up or it's down.'
About another mentor's 'pretty' model.
'Some may say 'girl next door' and others may say 'bland'.'
To a #TeamNaomi model who didn't bring a notebook.
'Where is your notebook? Every time I speak, you should be taking notes.'
To #TeamNaomi model Chloe at the conclusion of episode 3.
'It's not about feeling bad for anyone else. This is a competition, the other girl doesn't give a damn about you, so you need to take care and watch out for yourself.'
On fighting for what you want.
'You gotta be strong, you can't take it personal. And you can't be concerned about others, you gotta be concerned about you.'
Which team do you think will win? Make sure it's the answer I want to hear please… #TeamNaomi @TheFace UK

— Naomi Campbell (@NaomiCampbell) October 14, 2013
Upon seeing #TeamNaomi rehearse the lingerie shoot.
'I hope you guys pull it together, or God help you all. God help you all!'
Words of encouragement?
'Marks and Spencer. Huge brand. Don't mess it up.'
Naomi's version of accepting some blame.
Either I'm doing this wrong or you're not just listening. You need to focus.
#TeamNaomi mirrors what it's like being a real model. It's not about having fun... It's about being the best. @TheFace UK

— Naomi Campbell (@NaomiCampbell) October 21, 2013
To Chloe-Jasmine on her 'thoughts'.
'It's none of your business what you think. You didn't get the job. Do action. No more of you thinking. Thinking is getting you nowhere.'
Addressing the dreams of #TeamNaomi.
'Ihave my career. You guys don't. You want what I have. And that is a waste of my time.'
Reflecting on #TeamNaomi at the end of episode 4.
'I really thought that I put the fear of god into them. But obviously I wasn't strong enough. So now I have no other choice but to really give it to them.'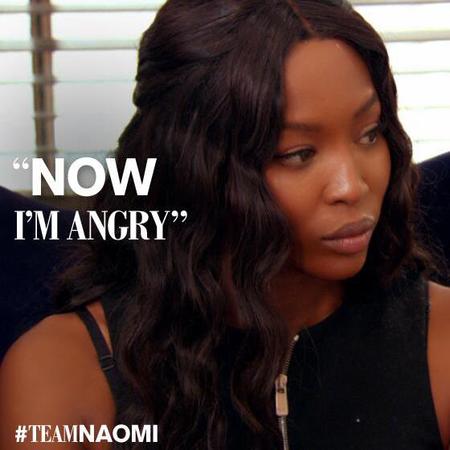 Loving Naomi Campbell on The Face UK too?
Tune in next week, Sky Living 9pm, and let us know your new fave Naomi quote.
WHY YOU SHOULD BE WATCHING NAOMI CAMPBELL'S THE FACE UK
NAOMI CAMPBELL SHOOTS NAKED COVER FOR INTERVIEW
READ MORE FASHION NEWS...