We've all fantasised about being Julia Roberts in
Pretty Woman
, but what really happens when you hook up with a personal shopper?
Handbag.com
's Fashion & Beauty Editor
Amy Lewis
went to
Westfield Stratford City
shopping centre to find out.
A LITTLE BACKGROUND
To say I'm 'in to clothes' cheapens my passion for fashion somewhat, so I'm going to lay the groundwork here by revealing that my current wardrobe spans two hanging units, a sizeable chest of drawers and 3 homes.
My own where the core of course lives, my Dad's where I used to live and the maybe-one-day classics now remain, plus my aunt & uncle's house (recently my own mid-move home) which is the holding area for garments I'll really need to collect soon, but you know, when I have a minute/removal van to spare.
So no, I'm not a middle-aged frump with no sense of style, nor am I a millionaire who's too lazy shop.
I do still rate having a personal shopper in your list of contacts however, and I do think
everyone
could benefit from a session.
Here's why...
PERSONAL SHOPPING: THE CONSULTATION
My personal shopper was Tanja Mrnjaus, who as well as owning
her own styling company
, holds one-to-one shopping sessions at
Westfield Stratford City
.
When I turned up to meet Tanja at 11am on a Saturday morning for our session (yes, you probably will panic about to wear, but best advice is to do 'you'), first things first was a sit-down chat.
What do you want from this? What's your wardrobe lacking? Whose style do you like? What garments are a no-no for you? How do you normally dress? What are your biggest style/shopping challenges? Where do you like to shop?
Answers? A work wardrobe that's cool yet professional. Separates.
Olivia Palermo
. Trousers (they terrorise my bum and thighs). Smart-casual, everywhere. Jeans, trousers (reasons already discussed) and shirts due to an ongoing button/boob battle. Topshop, Joy, Zara, Warehouse, Oasis, I could continue this list for about 10 years...
PERSONAL SHOPPING: THE SHOP
Having accepted the challenge and built a mental image of both my current and future wardrobe, Tanja suggested we hit the shops pronto.
She'd already done a recce ahead of our meeting, and so like an unstoppable force started sweeping around stores like a speedier (and more affordable) version of Stanley Tucci and Anne Hathaway in that
Devil Wears Prada
fashion cupboard scene.
There was a lot of 'we'll try this, and this', 'this shape will be great on you', 'you need to try these together', 'avoid those, but embrace these' - until her poor arms were quite literally loaded. You're not allowed to help to carry stuff, which at first is weird, but then actually becomes quite nice, and fun.
After a full sweep we hit the changing rooms. Though Tanja didn't quite come into the cubicle with me, she was in full command of the changing room area, with none of that 'six items only' nonsense occurring. Then the fun really began.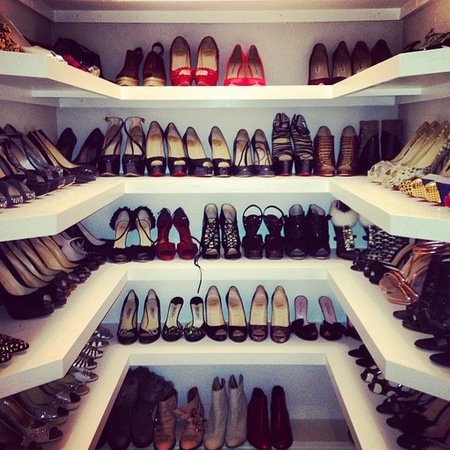 PERSONAL SHOPPING: FINDING NEW STYLES
Whether you know it or not, most of us stick to the same wardrobe formulas. We've found what we think flatters us most and we re-wear it religiously. Though that's not a terrible thing, it certainly does limit experimentation.
Throwing my rule book out of the window for a moment, Tanja had me trying on shape, colour and texture combinations that quite honestly, I'd never have even considered for myself.
Some of them worked, some of them didn't, some led us to try other things which again were hit and miss (but mostly hits), and that for me was the real beauty of the whole experience.
Trying new things. Hearing a new perspective and letting somebody who isn't bound by the rules of 'who you are' to take the driving seat.
PERSONAL SHOPPING: THE VERDICT
When was the last time you really shopped without
knowing
what you needed? With a full willingness to just 'try and see'?
As much as I like to browse and buy, I've had a shopping 'agenda' since I was 18. So having the chance to step outside of myself, because that's what happens, was great.
You don't have to take
everything
from the session onboard, but I'd be very surprised if you didn't come away with at least one new style trick.
WHAT YOU NEED TO KNOW
Booking Tanja starts from £50 an hour for up to two people, with lots of other bits included like a personal style report and tips specifically for you.
Westfield Stratford City also has a Style Doctor service, starting from £50.
When you shop, any pieces you like are put on hold so you can go back and purchase what you fancy after the session.
There's no pressure to buy what you try. Really
Lots of high street stores have a similar service now too, so do your homework first.
For more information or to book your session now, head to
Westfield.com/stratfordcity
HOW MANY CALORIES DOES CHRISTMAS SHOPPING BURN?
HANDBAG TESTS: MILKY WAY CHOCOLATE SPREAD
MORE FASHION NEWS...