Step-by-step: How to take in a skirt waistband
Whether it was a one off from a thrift store, or the last one left in your size, plenty of us are guilty of buying a skirt that is just too big.
Well, there are options. They do vary depending on the waistband in question, style of skirt and the way it fastens.
However, using a pleated skirt, that zips and fastens at one side, we can show you one way that
sewing
a few stitches and adding some elastic can sort you right out.
Step 1. Measure how much you need to take it in by
Work out how many inches/cm too big your waistband is. Remember this number! You can do it by trial and error with
the pinning process
that follows - it depends how exact you like to be.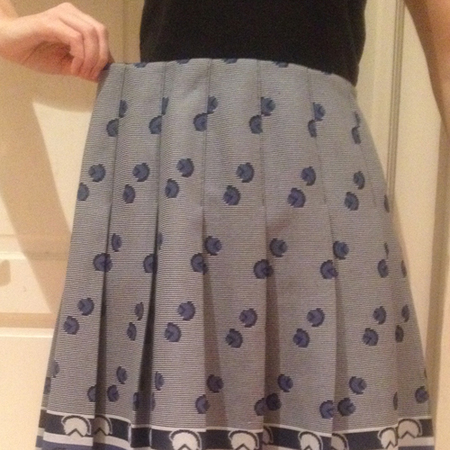 Step 2. Pick two evenly distanced points
Chose two points in the back half of the skirt's waist band that are evenly distanced from the side seams.
These will be where you add your new pleats.
Don't just take it from one spot, you'll have a weird point where the fabric bunches up. If the skirt fastens at the back, you can just opt for the two side seams as your points.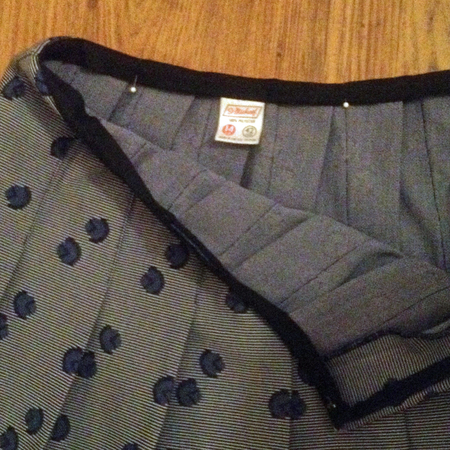 Step 3. Pin new pleats in place
This is where that number comes in - halve it and take in by that much at each of the two points.
If, like with this skirt,
>there are pleats
already, use them. The darts will look less obvious if you are able to hide them in a pleat that's already there.
Look at how the new mini pleats look from the outside and adjust accordingly.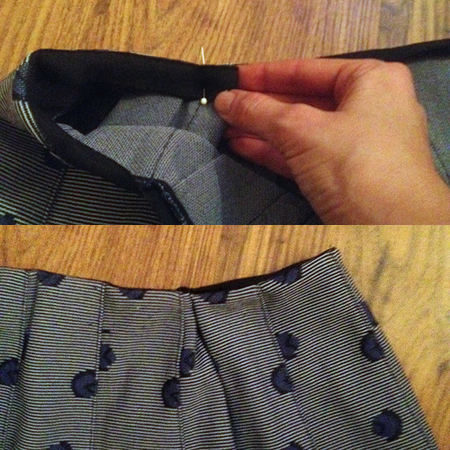 Step 4. Pin elastic in place
On one side, take a small piece of elastic that is about double the width of the fold you've created (plus enough to fold each edge of the elastic).
Pin each side down around your pleat/dart.
*Tip* You could just sew it down at this point without elastic.
However, what elastic does do is offer a bit of stretch for when you put the skirt on and off, this will put less strain on the stitching and allow you to bring the waistband in as small as you need while still getting the skirt on.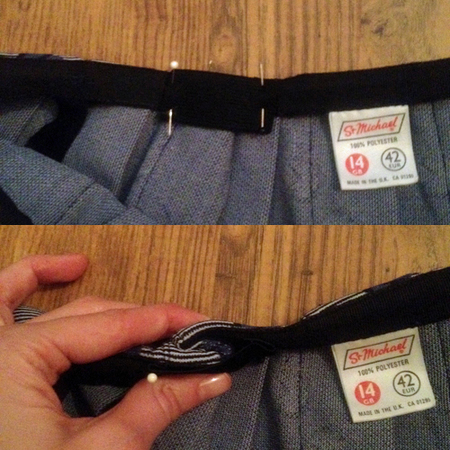 Step 5. Sew the edges of the elastic
Sew down each folded over side
of the elastic being careful to keep stitches on the outside of the skirt to an absolute minimum. It is important that the elastic is folded over so that it doesn't fray and disintegrate over time.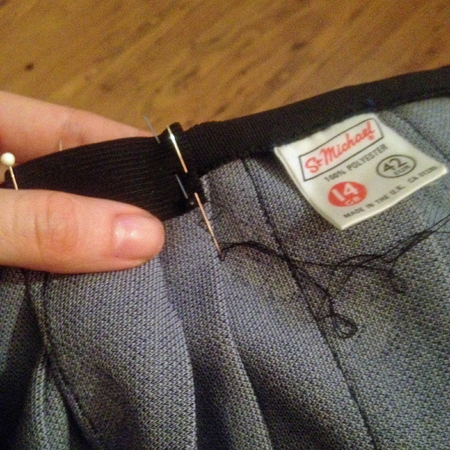 Step 6. Stitch down outside pleat
Stitch a few small tacking stitches onto the outside fold to keep it neat. If you need more give and stretch to get the skirt on and off, you may be able skip this (depending on the fabric and skirt style) and just make sure the waistband is flat and neat when you put it on.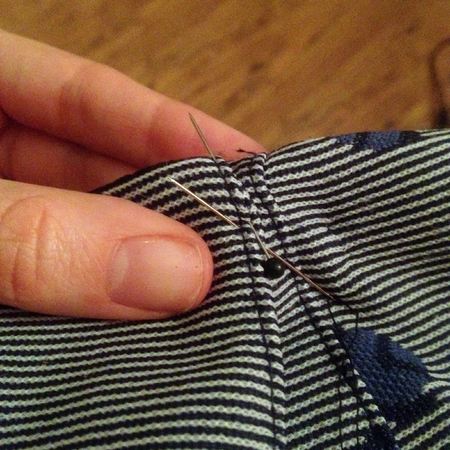 Step 6. The finished article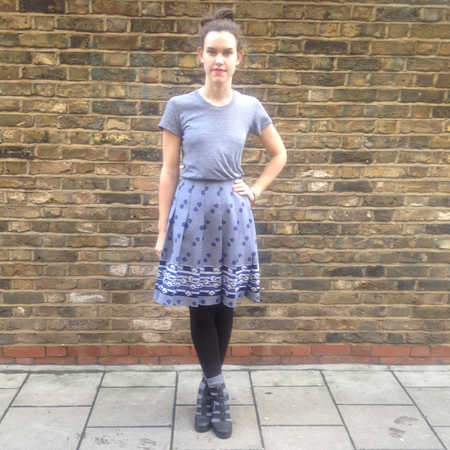 Your craft and sewing essentials
DIY FASHION FIX: ADDING THAT TURN-UP
DIY FASHION FIX: DE-80S THE SHOULDERS OF A COAT
MORE FASHION FIXES AND MUST-HAVES