We're always on the look-out for something that'll make our outfit pop, but
sometimes a statement necklace
just won't do.
So we've taken a little inspiration from Shourouk's jewel handbags to create our
very own embellished clutch
that'll jazz up pretty much any outfit.
What you'll need
You'll need a simple clutch bag with a smooth surface. We dug out this
leather neon yellow bag
with a tassle, but pretty much any colour and material will do.
Next up, the fun bit: jewels. We got ours from
Creative Beadcraft
. Pick a variety of shapes and colours, within the same colour scheme to avoid the a-rainbow-threw-up-over-me look.
To stick them on the bag, you'll need special fabric glue and some toothpics.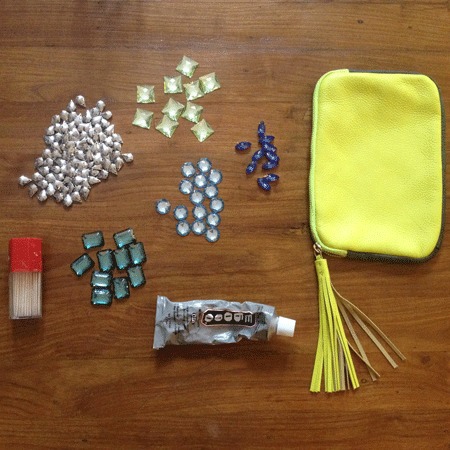 Step 1. Position the gems
It's important to map out your entire pattern before you start gluing.
Play around with the crystals until you're happy
with the pattern
, then leave it as is.
It's a good idea to take a picture in case you accidentally knock over the beads.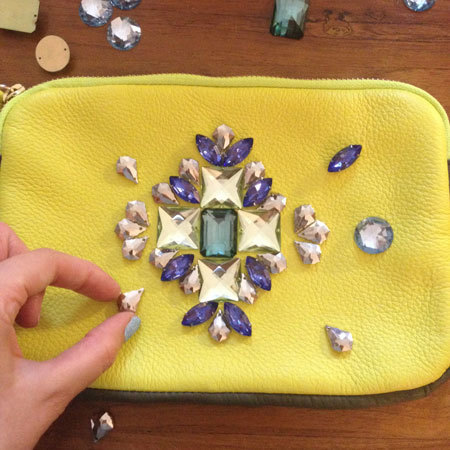 Step 2. Gluing the pearls
Use a toothpick to apply a bit of glue to the back of the jewel, then press it firmly onto the bag.
Repeat one by one, until you've gone from left to right. Try not to disturb the other pearls while you're doing this as you may mess up the pattern.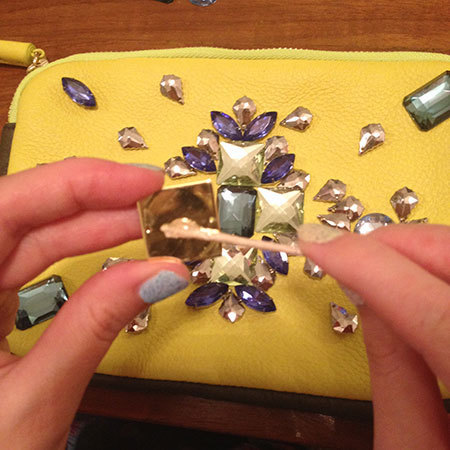 The finished bag
Leave the glue to dry overnight and then your clutch is ready to show off. It's as simple as that!
This is a great way to either
repurpose old clutches
or create new ones on a budget. You could even stick gems on a perspex pouch for a trendy SS14 accessory.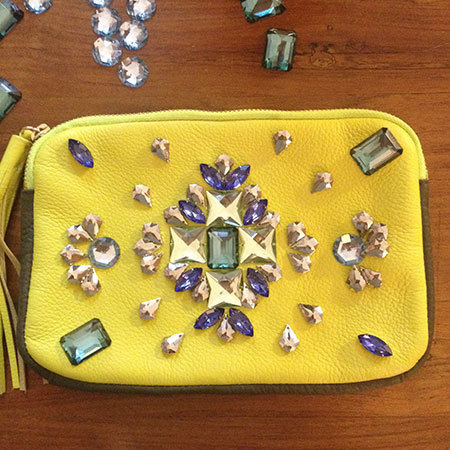 Made one yourself? Tweet us the results
@handbagcom
YOUR CRAFT AND SEWING ESSENTIALS
DIY FASHION FIX: SPRING FLOWER MAKEUP BAG
DIY FASHION FIX: SLOUCHY LEATHER CLUTCH BAG
MORE FASHION HOW TOS AND STEP BY STEPS