There's no denying it, hats are back. Whether it's Kate Middleton accessorising her
blue Christopher Kane coat dress
with a blue hat,
Emma Stone and Andrew Garfield's matching headwear
or
Pharell's hat
, the hat is the new must-have accessory.
And with wedding season well and truly upon us, surely now's the moment to embrace the trend? Here's how to do it without looking like the mother of the bride, courtesy of Pippa Middleton's milliner,
Rosie Olivia
.
Pick the hat before the outfit
You might be tempted to buy the hat last, but that would be a mistake, says Rosie: "Coming to get the hat
before the outfit
is the best because you can go all out with the hat."
Pick the right shape
"A
small pillbox shape
that sits at the front of the head is really popular. Also hats that are wide to give you the width or high to give you height. It depends on the outfit you're wearing. With a big
frumpy outfit
you're going to want a small hat."
How to wear the hat
Where to place your hat on your head
depends on your hairstyle
, explains Rosie: "It depends on how you're parting your hair. If you're parting it towards the right, I always say wear it on the right hand side. You've got more hair on the other side and it balances it out."
"A lot of people
wear their hair up
with hats. It makes your neck look longer, more elegant," she adds.
Matching your hat to your outfit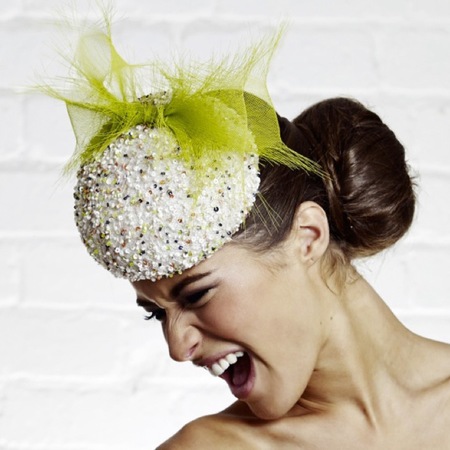 While
matching your handbag
to your dress might be a thing, Rosie advises against doing the same for your hat:
"If someone had
a blue dress
, I would not put a blue hat with it, I'd put a nude or a black hat with a trim on it that's blue, so that people say she's made the effort and she's gone and bought a hat that matches her outfit. I wouldn't go all blue block colours. It looks cheap. I like contrasting colours or two-tone. Maybe multicoloured beading."
Go big or go home
Fascinators? Fascinators are for whimps. Rosie says to
go big or go home
:
"Fascinators are a bit here or there. People are more inclined to wear a hat than a fascinator to make more of a statement. Some people are scared of
wearing bigger hats
, but it's cool to wear a hat."
Pick the right hat for the right event
Picking the perfect hat totally depends on
what event you're going to
.
For example: "A lot of ladies are quite happy to go for something quite high, because a lot of events,
people are kissing
and saying hi, and a wide brim hat is not good for those types of events," reveals Rosie.
Going to the races? Be careful, or you might end up waisting your money. Rosie explains: "Ascot has strict rules, the hat has to be bigger than 10cm at the base. You can't wear a fascinator."
Helpful? Tweet us
@handbagcom
HOW TO TIE DYE YOUR OWN BAG FOR SUMMER
JULIEN MACDONALD'S SWIMWEAR STYLING TIPS
MORE STYLE TIPS