From
Beyonce
and
Katy Perry
to Rihanna and Rita Ora,
all the festival-going celebs
know there's no better way to stand out from the crowd than with a quirky bag.
Even more so
if it's hand-customised
, meaning you won't bump into anyone else carrying the same (awkward).
So we thought we'd as fashion and beauty blogger Laura, over at
That's So Yesterday
, to share her tutorial for the quirkiest, most awesome festival tote bag.
What you'll need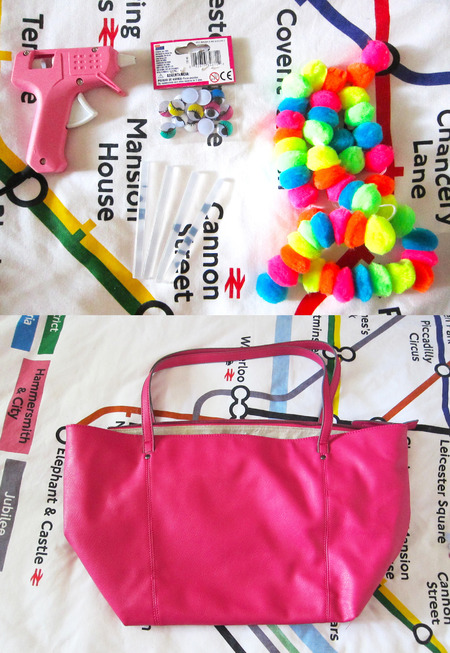 A bag (old or new)


A glue gun and sticks or all purpose glue (£5, Hobbycraft)


Newspaper


Garland pom poms (£2, Hobbycraft)


Stick on goggle eyes (£1.50, Hobbycraft)
Step 1: Preparing the surface
Make sure your bag is clean and dry before you begin. If you're using a glue gun, you can start to heat it now so it's ready for sticking, make sure to place it on a flat surface and place some
old newspaper
underneath to stop any mess.
Do this also if you're using plain glue.
Step 2: Sticking on the goggle eyes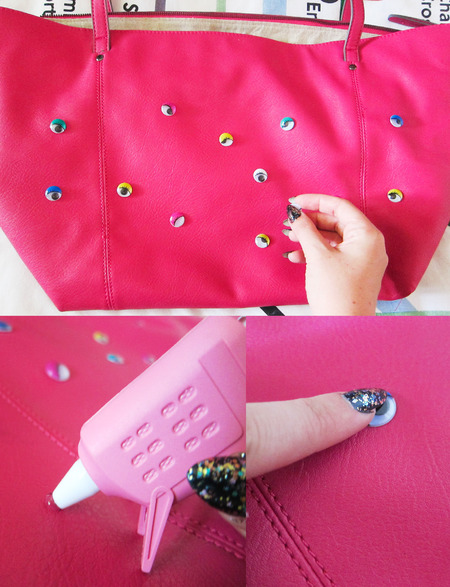 Some goggle eyes have a sticky back film at the back, make sure you remove this or all your eyes will slowly drop off.
Arrange your eyes onto your bag, make sure they are well spaced and
mix up the colours
. Dot a small amount of glue onto the bag directly and hold down the eye for a few seconds to make sure it's attached well.
Step 3: Adding the pom poms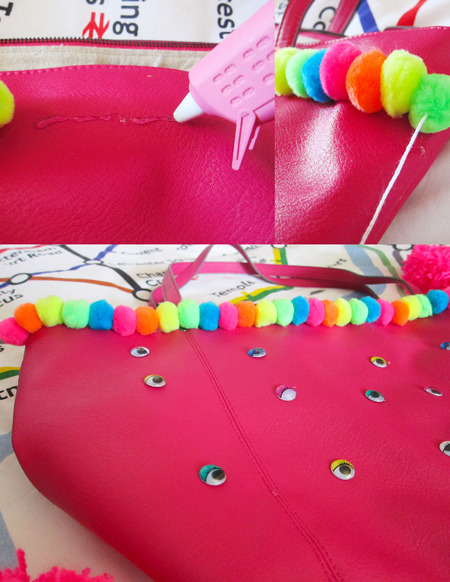 Using a
pom pom garland
is more practical than individuals ones as they will hold well. Take the first pom pom and dot some glue on the back, push down onto the bag to start you off - you can use it as a trim on one side of the bag.
Then for the rest of the trim, take your time dragging the glue in a neat line and continue to push down as you move along.
Once you reach the end wait to glue
your last pom pom
, push down the ones remaining and cut them away leaving some thread. Tie the thread off and then glue down your last pom pom.
Now you're done and festival ready!
Best celebrity festival style 2014
Tweet us your creations
@handbagcom
HOW TO MAKE A FASHION CLUTCH
IS IT TIME TO EMBRACE TIE DYE AGAIN?
MORE HANDBAG TUTORIALS