Beauty blogger and makeup artist
Tanya Burr
launched her own lipgloss and nail collection last night - congratulations lady!
Naturally, we were on hand for support. Which actually just meant helping to pack her clutch bag. Here's what Tanya carries on a night out.
Tanya Burr's River Island clutch bag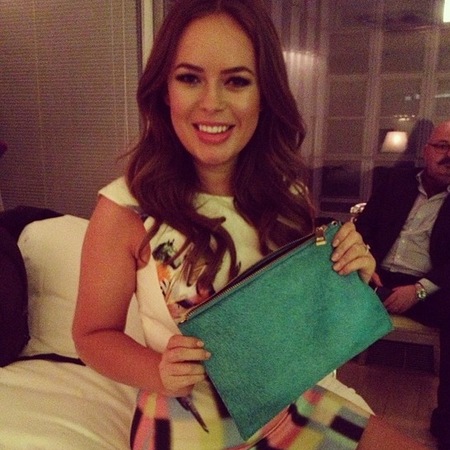 To
keep her skin perfect all night
, Tanya carries the Clinique Stay-Matte Sheer Pressed Powder, £23,
clinique.co.uk
, Collection's Lasting Perfection Concealer, £4.19,
boots.com
and her favourite small foundation brush by Louise Young (#LY48), £19,
louiseyoungcosmetics.com
.
Loving her own collection still, Tanya
painted her nails for the night
in her Mini Marshmallows polish, £5.99, and kept both the hot pink Picnic In The Park and the shimmer Aurora lip glosses, £6.99 each, all available at
feelunique.com
, in her bag for a mix and match lip look.
In case of any dry lip or skin emergencies, Tanya also packed her Elizabeth Arden fragrance free Eight Hour Cream, £18,
johnlewis.com
, along her with iPhone and bank card - essentials!
Do you keep any of these in your handbag? Tweet us yoru essentials
@handbagcom
WHAT'S IN MY HANDBAG: LOUISE REDKNAPP'S HERMES
RIVER ISLAND'S FEATHER HANDBAG TAKES OFF
MORE SHOPPING NEWS