We sat down with
TOWIE
star
Ferne McCann
and had a rummage in her handbag.
From the essentials to the weird and wonderful things rolling around in the bottom, this is what the lovely
reality TV
star keeps with her at all times.
Ferne's handbag essentials


I'm not one for a purse, so I've got random money


I've got my debit card in my makeup bag


Earhones


Satsumas - always


Bottle of water


Every item of makeup


Flip flops


Pumps


My phone, with a battery pack that's charging right now


Charger


Oyster card


Chewing gum


Tissues


Yes, it's a very big bag.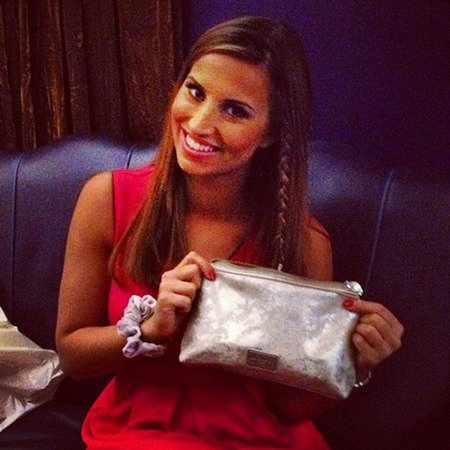 Ferne's weird handbag finds
We thought we'd ask
Charlie Sims' ex
what sort of odd or frankly, gross things she'd found rattle around there before.
She admitted there's definitely "always an old bit of fruit."
But one time it was even more disgusting.
"I kept walking upstairs and smelling this damp smell and it turned out to be a bikini.
I went to a spa a few weeks ago and I just forgot about it and I found it in my luggage bag. It was rank."
When she's not forgetting her stinky swimwear, Ferne's always prepared.
She sais, "I always seem to carry a spare pair of knickers around.
Because, without being rude, you never know what situation you'll end up in.
You never know. This sounds really wrong.
You could wet yourself tomorrow, I could wet myself right now!"
Ferne McCann's new FML range at Lasula
What's in your handbag? Tweet us
@handbagcom
WHAT'S IN MY HANDBAG: MADE IN CHELSEA'S BINKY FELSTEAD
WHO WILL LUCY WATSON DATE NEXT?
MORE WHAT'S IN MY HANDBAG