We spoke to ex
Made In Chelsea
cast member
Phoebe Lettice-Thompson
about her latest project, a collection for Illustrated People and were rather impressed.
Not wanting to be defined by her stint in the show, Phoebe has worked hard to maintain her actual career, in fashion.
And with her waxing lyrical about her collection before we'd even asked a question, it was clear this is a passion as well as a job.
The Inspiration
"I think it routes back to when I was 10 or 11 and No Doubt was happening and I was obsessed with
Gwen Stefani
and teamed up with those Harajuku girls and started L.A.M.B. and I just thought THIS is the coolest thing in the world.
There was nothing like that. At my age I knew nothing about
Japan
. My friend when on holiday there and I thought that was weird, you know, they had robots…
It was so different and I became obsessed with it.
Before they'd offered me to design a collection I already knew exactly what I wanted to do.
Originally, I just wanted to make matching hip hop shorts and t-shirts for girls!"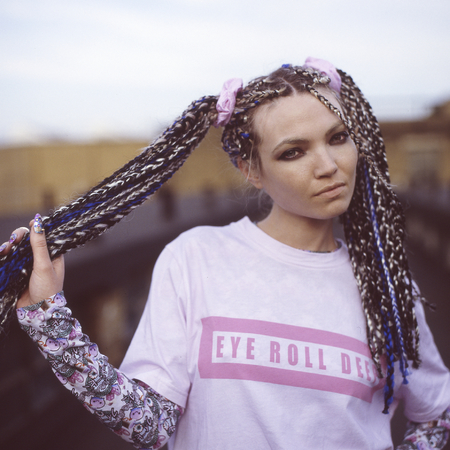 The Process
"We managed to create the prints by importing loads of things; toys, sweets, candy, everything from Japan and I just walked
around Soho
and went to the Japan centre and just threw myself into it.
Then I started photographing things on a green screen. Cut it out on photoshop.
What we started out with at the beginning is so different to what we've ended up with. We just found that things worked.
[One logo] means 'Sketched People' but it's the best translation you'll get of
Illustrated People
and that's 'Phoebe'."
The Phoebe Lettice X Illustrated People girl
"I think it's for everybody, but definitely someone that has fun with fashion.
It's really not a serious collection, it's about having fun and experimenting.
I dress so differently everyday. One day I want to be all chic like I still work at
Tatler
, then one day I want to look like a tramp and today I wanted to wear pink.
Some days when I'm working in the week and I cannot be fucked to see anyone -
ripped jeans
and a boys jumper.
Everyday is a different feeling and hopefully that comes across."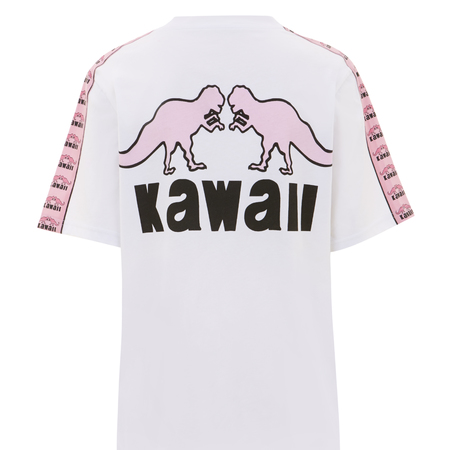 Phoebe Lettice: The Hard Worker
"I've been a photographer for years, and I wanted to be a stylist as well and then being a fashion assistant took off
I was test shooting on the side but not really focusing and not really improving."
But recently she's been working more as a professional photographer, with images appearing on
The Huffington Post
.
With the collection,"I saw the shoot before I designed the clothes.
I knew exactly what I wanted. I wanted a girl gang, a fun tight knit group that look like they could beat the shit out of you.
She doesn't like to "dilute' herself with a job title.
"I think it's a bit naff when people who've half done something claim to be that. I'm a 'creative controlling director'."
Style Rules
"Whatever you feel like.
One rule is always
dress for your shape.
There's no point buying something if it doesn't look good on you."
And her style icons? "Debbie Harry, Gwen Stefani (obvs)...oh and I love MIA."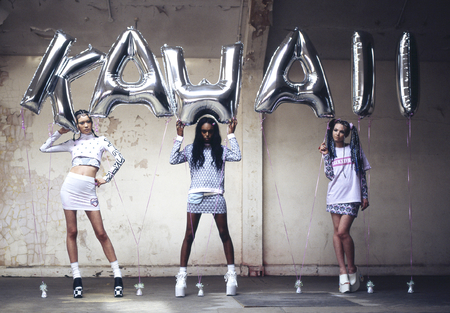 The collection is
available online
on 26th May, prices start from £35.
PHOEBE LETTICE THOMPSON IS TOO FASHION FOR TWITTER
ALL THE MADE IN CHELSEA GOSSIP AND NEWS
MORE FASHION NEWS AND INTERVIEWS