One Thing
singer,
Ameriie's back with a brand new single
and she's got plenty of style to go with her sassy comeback.
We caught up with her to find out
what she carries in her well-cared for handbag
and what's the weirdest thing she's kept tucked away in there.
What handbag do you carry?
"This is
Celine luggage tote
. It's actually my sister's. We share bags. My sister, my mother and I all rotate."
"The only thing is sometimes one of us wants to get the same bag and my mum will say, "No, don't do that." But we're like she lives in New York, I live in LA. The only time we'll get the same one is when it has different detailing. We've all got the
Chanel 2.55
and we've all got one but with a different chain."
Is your handbag a temple or a dumping ground?
"OK, it can veer very close to dumping ground but I do think it's more a temple, because I'm very careful with the way I have it."
"I actually have this nice little contraption that one of my girlfriend's gave me. You know when you
go to restaurant
s and you don't want my handbag on the floor? So, if you're sitting in a restaurant and you've nowhere to put your bag, this little thing helps hang it off the table. Mine has diamonds on it but I don't know where it's from."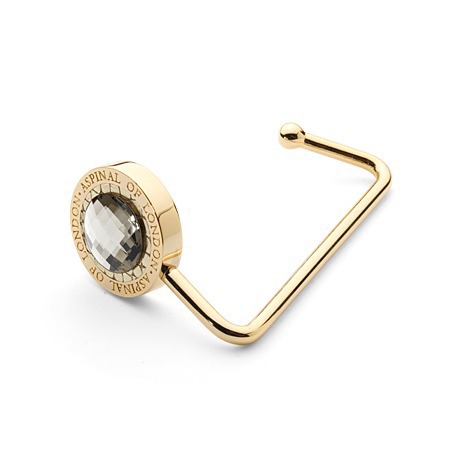 What do you ALWAYS have with you?
"Usually I have
my iPad
with me because I've got a lot of eBooks on there. I always have a book with me. Right now, I have
Harry Potter
and I've just got the UK original."
"I always have a pad for a
powder puff
because I always get shiny and a cell phone."
Has anything bad ever happened to your bag?
"I'm always crazy about
keeping it in shape
– I'm quite particular about that. I can't think of anything crazy that's happened to it. Thank goodness. I don't know what I would do!"
What's the weirdest thing that's ever happened to your handbag?
"I was travelling and was peeling an apple and accidentally had kept the steak knife I was using in my bag. It
made it through security
and I don't know how!"
HANDBAG CONFESSIONS: LONDON BEAUTY QUEEN
10 MINUTE BEAUTY CHAT WITH AMERIIE
MORE HANDBAG CONFESSIONS
LOTS MORE ON HANDBAG.COM