Chinese New Year
has declared 2014
the Year of the Horse
, so if you were born in 1990, 1978 or 1966 etc, this is
your
year. Fist pump.
So we think it only appropriate that you celebrate in style, with a special edition
Longchamp bag
.
Oh yes, Longchamp has released a Year of the Horse
Le Pliage handbag
, emblazoned with a golden race horse (coincidentally the Longchamp emblem) to champion all you free spirited horse people.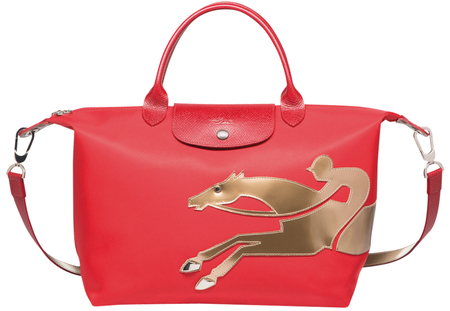 It's also just a nice handbag with a shiny horse on it, if you don't happen to have been born in the
Year of the Horse
.
Will you be bagging Longchamp's newbie? Tweet us
@handbagcom
HANDBAG TRENDS FOR SPRING/SUMMER 2014
BRILLIANT CHINESE FOOD RECIPES FOR A NEW YEAR FEAST
MORE HANDBAG & SHOPPING NEWS