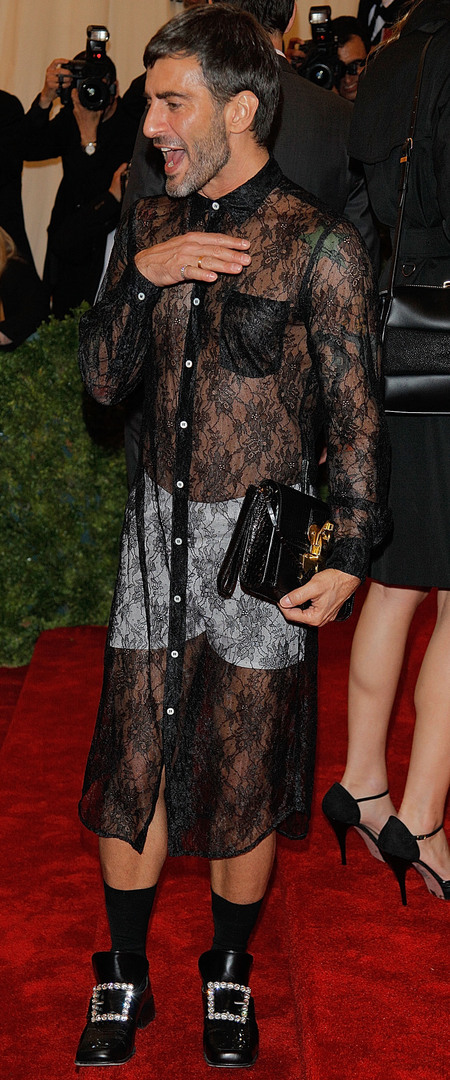 Remember all the fun we had at last year's
punk themed Met Gala?
Miley in fishnets, Madonna in her underwear,
>Kim Kardashian dressed as a sofa?
Well you can forget all of that. The annual fashion event is happening this weekend, and it is all about going back to
black tie formality.
Bor-ing.
Marc Jacobs
told the
New York Magazine
that he will not be sporting a sheer lace dress or even a skirt this year - oh no. He'll be in classic
Saint Laurent suit.
"I think it will be black with white tie, as the dress code asks for ... [I'll be wearing] Saint Laurent."
The theme this year is Charles James - hailed as America's first couturier and known for his structured gowns.
"I mean it's not exciting as wearing a lace dress and boxer shorts, but that was only for
Miuccia Prada
," said Jacobs. "This is much more straightforward."
Oh.
Let's take a look back at all the fun we had last year then shall we?
Celebs at the Met Gala 2013
LOUIS VUITTON BACK ON TRACK WITH NEW IT BAG?
THE FENDI HANDBAG VENDING MACHINE?
MORE FASHION NEWS