What on earth is going on at
Mulberry
right now? Hold on to your handbags folks, we're about to go through what's happening behind the scenes, from
Emma Hill's replacement
, to Bruno Guillon's exit.
So, who is Bruno Guillon and why do we care?
Bruno Guillon was, until yesterday, Mulberry's big boss man. CEO as they call it. His departure from the brand is leaving people in a panic however, because not only is
Emma Hill still missing a replacement
, shares in the company have dropped by 25%.
How, you ask? Since nearly everyone worth their style cred either owns a Mulberry, or is saving up to buy their first one? We're not sure, details are a bit sketchy.
What we do know, is that over the Christmas period sales were 7% lower than expected. Also, in South Korea wholesale orders were apparently cancelled in bulk, leaving anual Mulberry profits £8m shy of targets.
Which brings us on to
the replacement of creative director Emma Hill
. An area where again, details are sketchy.
Though
the designer announced her departure in June 2013
, Mulberry has yet to appoint a new creative lead.
The brand even had to abandon
their much loved London Fashion Week show
, putting on a smaller presentation instead, to reveal
the new Cara Delevingne handbag
.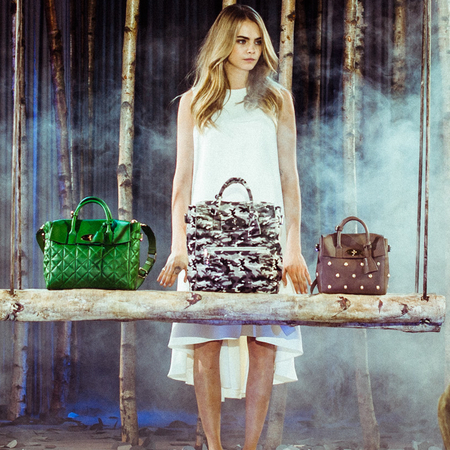 So what's going on at Mulberry?
Former boss man Godfrey Davis, who oversaw huge Mulberry success between 2002 and 2012, has stepped in to run things.
Though the brand is still looking for a new Emma Hill,
the Spring/Summer 2014 collection
is expected to do well.
In equally bright news, Mulberry shares rose 1.25% this week. Economists and stock traders we are not, but that sounds good.
Mulberry's Spring/Summer 2014 handbags
What do you think? Still love Mulberry? Tweet us
@handbagcom
MULBERRY REVEALS THE CARA DELEVINGNE BAG
BEST DESIGNER BAG TRENDS AT LONDON FASHION WEEK
MORE FASHION, SHOPPING AND HANDBAG NEWS