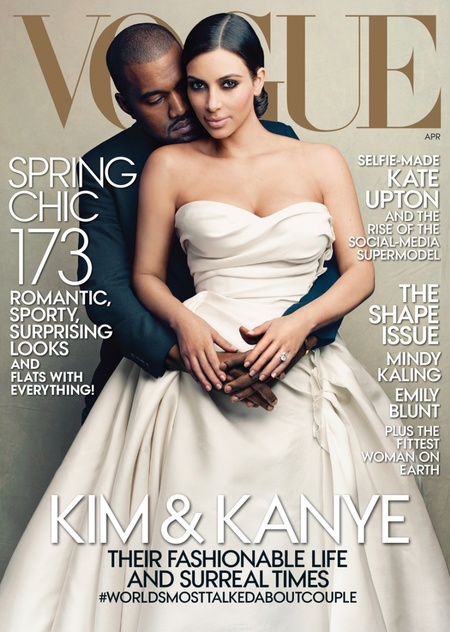 Is
Kanye West
and
Kim Kardashian
's
Vogue
an April fool? A fake? All because of the North West picture deal?
Anna Wintour's decision to put the couple on the cover of US Vogue
has raised a lot of questions, not to mention eyebrows.
Here's a few of the best reactions to the Kim and Kanye cover from Twitter.
Well......I guess I'm cancelling my Vogue subscription. Who is with me???

— Sarah Michelle (@RealSMG) March 21, 2014
NO WAY. No. No. Nope. http://t.co/mgOVLL1woJ pic.twitter.com/CczqE9r3oJ

— Joel Pavelski (@joelcifer) March 21, 2014
Okay @emmillerwrites, don't freak out, but Vogue put a hashtag on its cover. *sob* http://t.co/VRbpyXRAAI

— Wailin Wong (@VelocityWong) March 21, 2014
Somewhere, Victoria Beckham is flipping a table. MT @KimKardashian Thanks @VogueMagazine! I can't even breath! http://t.co/HcS9rKcO28

— Lesa Hannah (@LesaHannah) March 21, 2014
I am completely shocked that Anna Wintour wanted Kim Kardashian on the cover of Vogue

— Victoria McDougal (@VicMcdougs) March 22, 2014
What do you think about the Kim and Kanye Vogue cover? Tweet us
@handbagcom
IS LENA DUNHAM A HYPOCRITE FOR DEFENDING VOGUE AIRBRUSHING?
NIGELLA LAWSON FLAWLESS ON VOGUE COVER
MORE FASHION NEWS