Rita Ora
loves
a conversation starter of an outfit
, and this 'Teen C*nt' t-shirt is certainly difficult to ignore.
But is it just
Rita being Rita
, or is this the start of something?
The singer as an undeniable impact on street fashion and is even
launching her own adidas collaboration.
And this isn't the first time we've seen
a sassy slogan tee
making a not so delicate reference to our lady parts.
House Of Holland revealed pictures from their resort collection
and while we were
focusing on the handbags
, there was quite the mouthy jacket you just couldn't miss.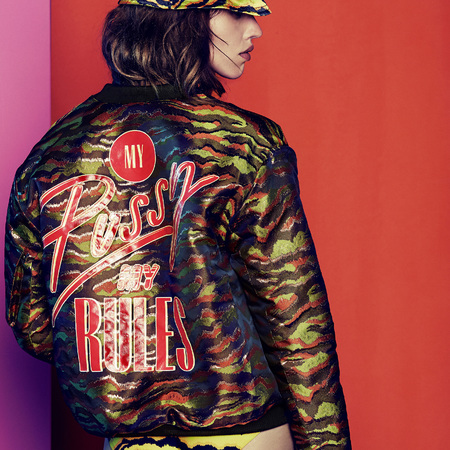 Would you wear a 'my pussy my rules' bomber?
Remember when, on a slightly less vulgar note,
Kendall Jenner used her sweatshirt to joke about her smaller boobs?
Anyone with 'no tits' felt a kinship with Kendall at that moment.
So, is it time to reclaim your bits with your clothes or is it too much?
Would you reclaim your lady parts with a t-shirt?
Yeah! My pussy, my rules
25.00%
Errm, maybe at a festival...when drunk
0.00%
Just no, I've got claim enough already thanks.
75.00%
THE RITA ORA FOR ADIDAS COLLECTION PICTURES
WHY YOUR VAGINA JUST ISN'T PINK ENOUGH
MORE FASHION NEWS