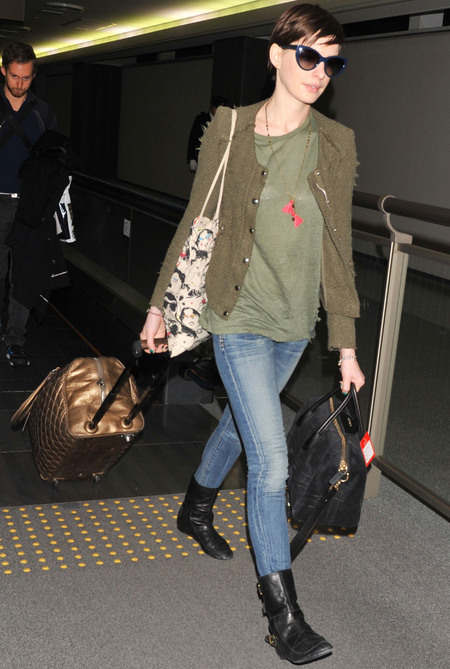 Anne Hathaway
touched down in Narita International Airport today, looking rather a lot like us.
Yes, she was wearing a much cooler outfit than we could ever hope to be wearing before a crowd of bustling photographers, and yes, she was wearing interesting sunglasses indoors without looking like a weirdo.
But check out how many bags she has!
Laden up with luggage, Anne wheeled a metallic holdall with one hand, while clutching a chic weekender in the other, along with a printed tote on one shoulder.
Though she looks calm and collected despite all the baggage - we tend to get a bit flustered - it's great to see that we're not the only ones who need so many different kinds of bag all at once!
What do you make of Anne's travelling style? Are you often a bag lady too?
TRAVEL BAG LOVE: STEAMLINE LUGGAGE
BAG LOVE: MULBERRY'S SMALL DEL REY FOR SS13
SPOTTED! FEARNE COTTON'S MULBERRY HOBO