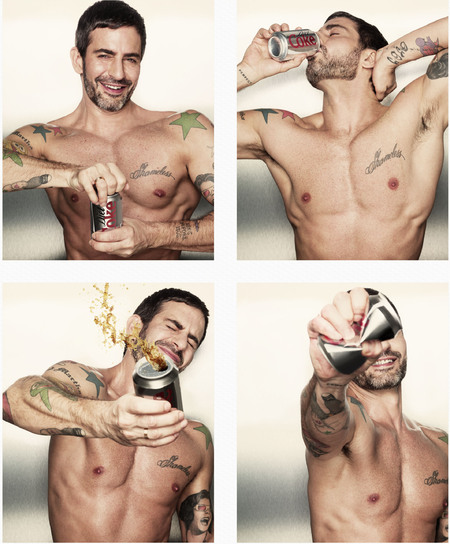 While there was always going to be excitement around Marc Jacobs replacing Jean Paul Gaultier as this year's Diet Coke creative director, we didn't think it'd be of the topless kind!
Celebrating 30 years of Diet Coke, Marc will design a three-phase collection of Diet Coke bottles and cans inspired by the rise of female empowerment through 80s, 90s and 00s.
Wowzer!
But to kick off his reign as the master of Diet Coke, Marc decided to put himself in the spotlight - he does love to bare those tats for his own campaigns remember! - with a stint as THE Diet Coke break man.
In the funny TV advert Marc gets caught taking topless snaps of himself in a photobooth, followed by a Diet Coke 'moment' when the curtain is pulled back.
Watch it now - it's awesome!
What do you think? Leave a comment below to
be in with a chance of winning a £100 goodie bag
WATCH: ANDREW COOPER IS THE NEW DIET COKE HUNK!
GALLIANO WINS COURT BATTLE OVER DIOR DISMISSAL
DAISY LOWE UNVEILS JPG'S FINAL DIET COKE DESIGN