Victoria Beckham
and Harry Styles wearing the same heart print shirt is something we, quite rightly, assumed we'd never see.
But how wrong were we eh?
In a sneaky Twitter snap from a shoot she's been doing with photographer Elle von Unwerth (who, by the way, specialises in erotic femininity), Victoria showed off a revealing snap of herself wearing an open shirt and high waisted pants from the
Burberry AW13 collection
.
But while we all saw the shirt on Karlie Kloss' slender frame at
London Fashion Week back in February
, One Direction's Harry Styles actually beat all models, shoppers and stylists alike to the soon-to-be-cult print.
Out on the town for
his birthday in early February
, Harry rocked the shirt in a nautical navy colour scheme before it had even hit the runway.
Amusing? Yes. Best story of the day? Yeah, quite possibly...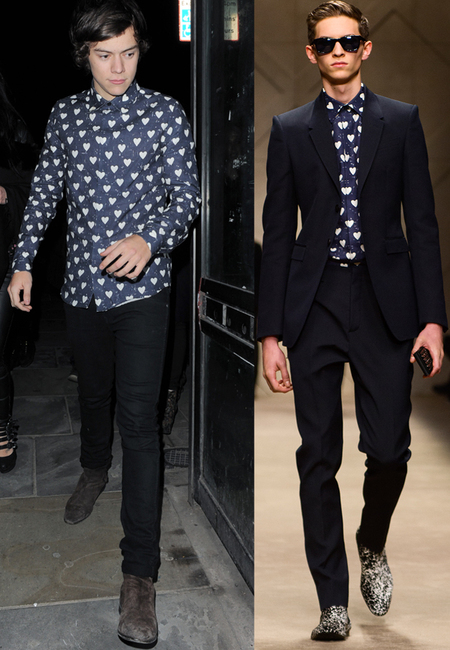 What do you think of the
Burberry
heart print? Fancy it scattered over a Burberry handbag?
FASHION FIGHT: MILLIE MACKINTOSH V VANESSA WHITE
PREGNANT FRANKIE SANDFORD WOWS AT HANGOVER 3
CELEBRITY STYLE: CAREY MULLIGAN'S GATSBY WARDROBE