Miranda Kerr
may have already been on of our major girl crushes - that
hair
, that
flawless makeup
- but now she's gone and knocked it out of the park by picking handbags over heels.
The model explained in an interview with
Lucky
that things have changed for her
since the birth of her little boy Flynn.
She's come a long way since
her Victoria's Secret days
and says now,"I try to avoid fabrics that crease—especially with my son.
When you have a child, that's important. A great pair of a jeans, a t-shirt and some loafers, that's what I always wear.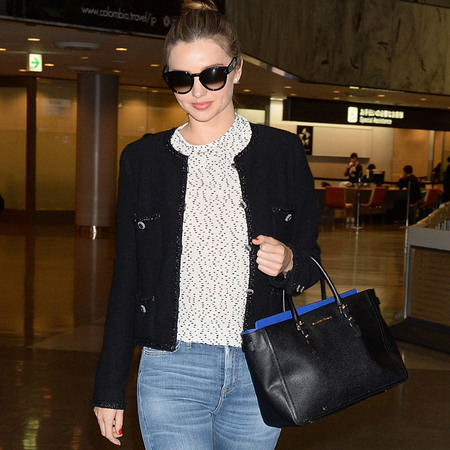 There's a leopard pair that I love, and I have a great pair of Givenchy flats that I wear all the time too."
And it's not only Givenchy flats she wears,
this lady loves a designer bag.
"I like experimenting with sunglasses and
having fun with handbags
," she said.
"I do enjoy wearing a little heel when I'm at work, but when I'm running around with my son it's a different story!"
With
a handbag named after her
and the honour of
opening Michael Kors' Shanghai store
, handbags and Miranda have a pretty strong bond.
Miranda Kerr's designer handbags
MIRANDA KERR'S TRAINER REVEALS GOLDEN FITNESS RULES
THE MIRANDA KERR CLUTCH BAG
MORE CELEBRITY FASHION NEWS