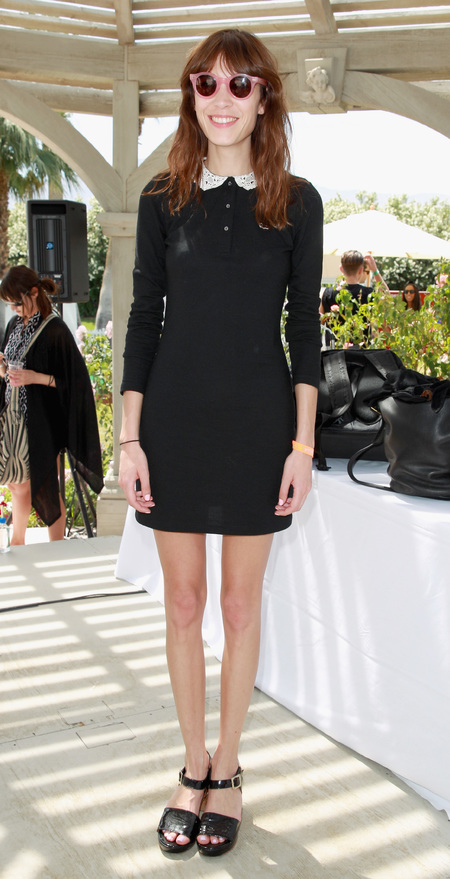 As a regular on the best-dressed lists and a source of fashion inspiration for many around the world, it's not surprising that
Alexa Chung
has developed her very own following of look-a-likes.
Her instantly recognisable
style
, often featuring high-waisted denim cut-offs, buttoned up shirts and tea dresses with brogues, has caught on with countless girls and even celebrities.
In a recent interview with
The Times
, Alexa revealed her opinions on the impact of her fashion choices, saying:
"I turned on the TV and I saw someone wearing a Peter Pan-collared dress and loafers and a bob. I can't reclaim that, can I? It's my dream, really. Can you imagine how happy I am that everyone looks exactly as I want them to?"
"I don't want that to feed into my opinions and what I do with my life. A couple of years ago I would be like, 'Oh, I can't do that any more: I'll take off the bloody school coat.' But I thought, 'I like people who have a uniform.' I like the way you know what Patti Smith is going to wear."
How would you feel in Alexa's position? Is fashion about individuality or following the crowd?
Check out some of Alexa's best fashion moments below...
JESSICA CHASTAIN IS BEAUTIFUL IN BLUE
KATE MOSS CONFESSES HER FESTIVAL ESSENTIALS
IS THIS TOPMAN 'KISSING IS COOL' T-SHIRT SEXIST?