Holly Willoughby
has been caught in the centre of another boob-related media storm following her revealing lace dress on The Voice UK final.
BBC bosses have now been forced to apologise to viewers following complaints over Holly's racy dress this weekend.
Apparently 139 people felt put out by the
This Morning
presenter's cleavage-flashing frock on the live show, which was watched by 8.7million viewers.
A BBC spokesman said, "We're sorry if some viewers found Holly's dress to be unsuitable. Holly enjoys fashion and we felt the dress she wore was glamorous and wholly appropriate for the occasion.
"We don't believe it would have gone against audience expectations for a TV spectacle such as this."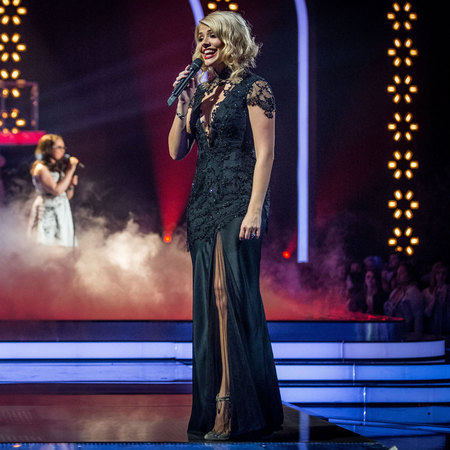 Good ol' Phillip Schofield was quick to jump to Holly's defence, tweeting today,"39 complaints over Holly's gorgeous Voice dress. Let's hope those outraged on behalf of their kids don't take them to the beach this summer.
"God forbid they might see a woman in a bikini before 9pm and be traumatised by the sight of her cleavage!"
There's no denying Holly took the plunge with her low-cut dress, but is it enough reason to pick up the phone and complain?
Holly's often praised for her 'real woman curves', so why shouldn't she flaunt them?
Where do you stand on the debate? Vote here and leave your comments below!
Is Holly Willoughby's cleavage too much?
YES - It's unnecessary flesh-flashing for BBC
23.77%
NO - Holly has a great figure, she should show it off
76.23%
3 STEPS TO SUCCESSFUL HOLIDAY STYLE BY JESSIE J
FEARNE COTTON FLAUNTS POST-BABY FIGURE IN FULL DUNGAREES
LENA DUNHAM WEARS MCQ ALEXANDER MCQUEEN FOR GIRLS FILMING