Kate Moss
has pulled off another show-stopping magazine cover look, this time wearing a metallic bronze bodysuit (complete with sculpted boobs and nipples) for
POP Magazine
.
The British model donned the striking glitter creation by celebrated artist Allen Jones for POP's Special AW13 Edition.
The 39-year-old showed that she's still got it in the skin tight creation that shows off her sculpted waist and flat stomach.
Allen Jones originally created the bodysuit in 1978, but he's decided to dust it off and hand it to Kate Moss for her third POP cover shoot.
We reckon POP achieved their aim of making Kate look like a mannequin...we'd be surprised if she could move a muscle in that thing!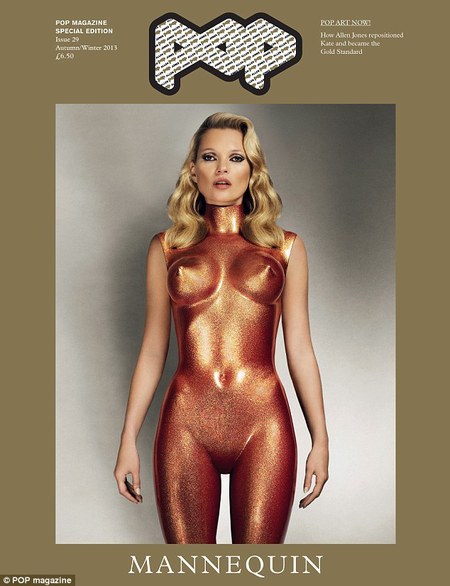 This striking cover image will be auctioned at Christie's in September and it's expected to fetch between £20,000 and £30,000. We like the shot, but it's not worth a deposit on a house?! Surely?
Curator Gert Elfering said about the auction, "Kate is the ultimate modern muse and we will be seeing her images in major museums and private collections for years to come. She has altered perceptions for women across the globe, encouraging them towards greater individuality and expressive freedom.
"There is so much you can learn from Kate - how you should always remain true to yourself, develop your own style, and emphasise your individuality."
What do you think of this special edition cover? Like it or loathe it? Take a look at some of Kate's fashion highlights in the gallery below...
KELLY BROOK ROCKS RISKY DOUBLE DENIM LIKE A PRO
SHOP: NEW LOOK'S KHAKI RAINCOAT FOR V FESTIVAL 2013
LADY GAGA SUFFERS UNDERBOOB SLIP IN STRAPLESS LBD