Prada
and Damien Hirst have hooked up to reimagine Notting Hill hotspot Pharmacy, as a juice bar in the Qatari desert. Random? A little, yes. But not quite as random as what's coming next.
In addition to Pharmacy, Prada and Hirst have also opened Prada Oasis, a shop made from a bayaat shaar (or sheep hair tent if you're not a Qatari desert local), which currently stocks twenty Buggy Prada bags, all decorated by Hirst with insects.
The Entomology bag collaboration, which may be one of the weirdest things we've seen in a long while, will raise money for a charity headed-up by Sheikha Al Mayassa bint Hamad Al-Thani, chair of the Qatar Museums Authority.
So if you are planning a trip that way soon, do call in!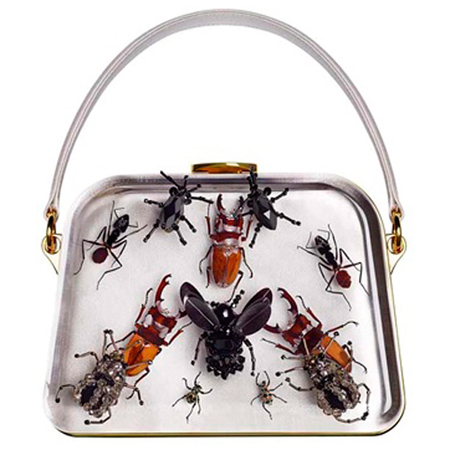 MILAN FASHION WEEK: NEW PRADA BAGS FOR SS14
BAG LOVE: THE LULU GUINNESS LIPS CLUTCH COLLECTION
SEE MORE NEW HANDBAGS...