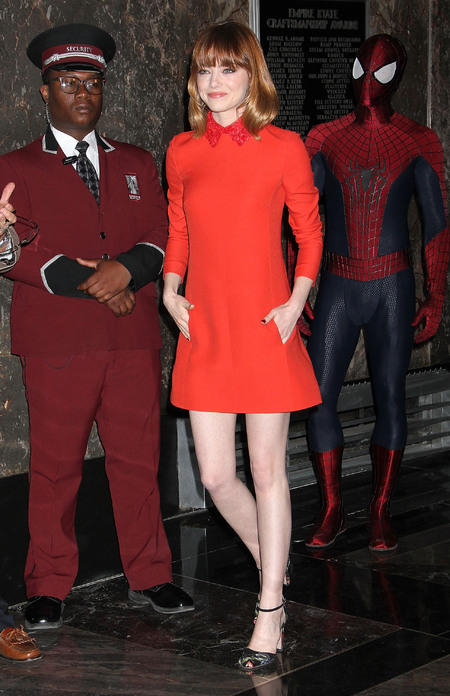 Fresh from from debuting her
new fringe and tousled bob
hairstyle,
Emma Stone
wowed us again as she promoted The Amazing Spider-Man 2 on top of the Empire State Building in New York.
Emma's been pulling out all the stops on this promo tour - ah
that Chanel maxi skirt
- but her latest outfit might be her boldest look yet, as she's only just gone and matched her hair to her dress.
Her red locks match her orange dress with embellished collar perfectly, and she even went for
a subtle orange lipstick
.
Sure, other celebs like Katy Perry and Kelly Osbourne have matched their colourful hair to their outfits before (green for Katy and
purple hair for Kelly
).
But Emma's the first to make the trend look grown-up enough for us to actually consider trying it. Well, obviously she would.
Would you match your hair to your dress like Emma Stone?
Totally, I love matching stuff to my outfit
75.00%
Maybe, as long as it's a 'normal' hair colour
25.00%
No way, this matchy-matchy trend has got to stop
0.00%
Thoughts? Tweet us
@handbagcom
We want Emma Stone's wardrobe
CAN WE JUST BE EMMA STONE ALREADY?
WE WANT EMMA STONE'S EVERYTHING
MORE CELEBRITY FASHION NEWS