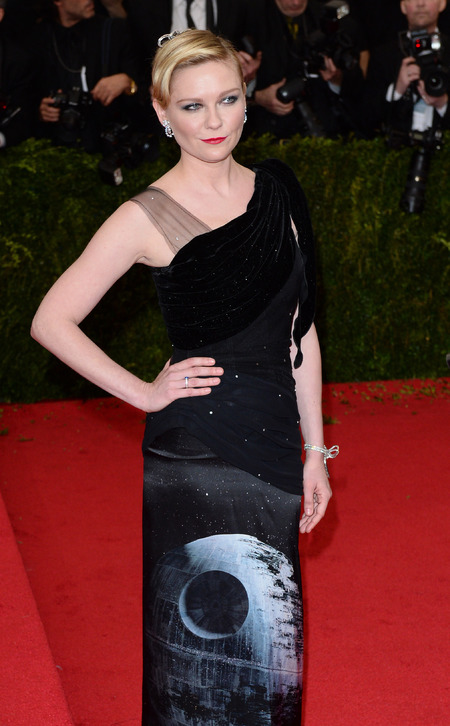 After her questionable Rodarte
Star Wars
death star gown for the Met Gala this year,
Kirsten Dunst
let
Vogue
in on
her sartorial wisdom
.
Currently promoting her new film,
The Two Faces of January
,
her wardrobe
has become
more important than ever
, especially since her costumes playing Collette MacFarland are pretty gorgeous.
So, we've put together a little guide to
her style secrets
.
THE IMPORTANCE OF COMFORT DRESSING
Comfort is paramount in her dress choices. And when it comes to work,
showing a bit of leg
isn't a bad thing for Kirsten.
"I like a cute, easy dress when I'm not working. I find jeans less comfortable than dresses to be honest - because everyone wears such tight jeans these days!"
LOOKING PRETTY IS HIT OR MISS
You can't be pretty all the time, we suppose. Getting dressed for
awards ceremonies
are a bit hit or miss according to the starlet.
"Sometimes you feel prettier than other times...Sometimes, like last night (for the British premiere of
The Two Faces of January
), I love my hair and make-up, I love my dress, my shoes; so I'll feel pretty."
"But other times, I feel like, 'Urgh - I'm a little too much here,' but it's too late! I can't say, 'Can you fix my base?' 'Can you redo my hair?' It's not going to happen, so sometimes you just feel better than other times."
STYLE CHOICES ARE MOOD DEPENDENT
Feeling pissed one day? Wearing red seems appropriate. We can understand.
Mood's pretty important
when it comes to Kirsten making crucial outfit choices.
"I like putting together a nice outfit...it depends on my mood."
Thoughts? Tweet us
@handbagcom
KIRSTEN DUNST'S TRADITIONAL RELATIONSHIP RULES
THE CAROLINE FLACK GUIDE TO LIFE
MORE CELEB NEWS
LOTS MORE ON HANDBAG.COM