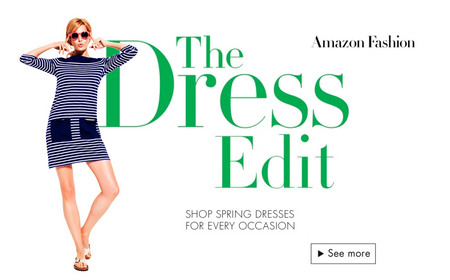 When shopping
for a party dress
for the weekend, would you think to go on Amazon UK first? No, us neither. But that might change very quickly.
The online shop has just launched its own dedicated dress store,
The SS14 Dress Shop
, part of Amazon Fashion, and it's got pretty much any dress you can imagine. Seriously, there's over 100,000.
They know what they're doing too. You can shop by this
season's hottest trends
, be it florals, lace or the white trend.
But if you're not sure what style to go for, you
can also search by brand
(including Cacharel, Tommy Hilfiger, French Connection, and Lipsy), price and colour.
Plus you can see what dresses actually look like on
thanks to catwalk videos
.
This is all well and good Amazon, but when will there be
a Handbag Shop
? Because we're totally there.
Share your thoughts with us
@handbagcom
WANT TO DESIGN YOUR OWN JIMMY CHOO BAG?
LULU GUINNESS' AWESOME NEW HANDBAG
MORE FASHION NEWS