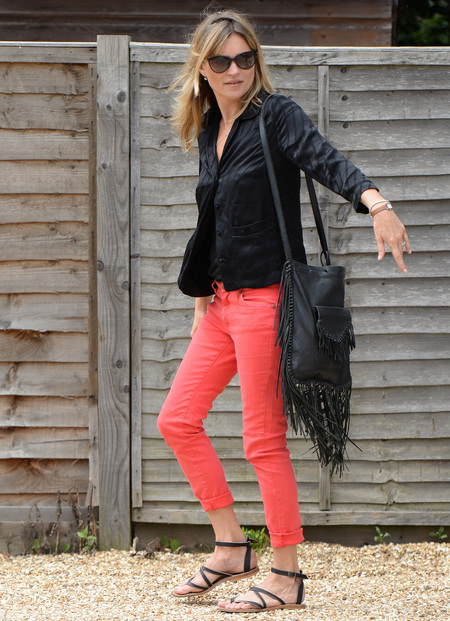 Just when we thought it was finally official
summer wardrobe
time last week, the weather has turned on us again.
And we just don't know what to wear anymore, we give up. Too cold for
summer clothes
, and definitely too warm for
the winter coat
.
But in our hour of need,
Kate Moss
always comes to the rescue.
She gave us the answer to our midseason fashion woes as she
celebrated Father's Day
with her husband
Jamie Hince
yesterday.
The red jeans are the perfect
pop of colour
for summer, while the black silk pyjama top, from her
Topshop collection
, is a great lightweight cover-up.
And just because it's grey doesn't mean the sandals need to go. Mossy's
black strappy shoes
matched her top perfectly.
And need we mention her gorgeous Genevieve Jones Kate Fringe Bag? Yes, yes we do.
Tweet us your thoughts
@handbagcom
BUY IT ON YOUR BREAK: TOPSHOP'S £28 SUMMER TOTE
KATE MOSS RIMMEL COLLECTION. IN DRAWING.
MORE CELEBRITY FASHION