Reckon you could survive the whole Christmas party season with just one clutch bag? Our fashion & beauty
Amy Lewis
put it the test with Fiorelli's new silver
Juliet 25th Anniversary clutch
, £49.
The Plan
The seemingly endless party circuit is often where even the best laid 'Christmas on a budget' plans come undone.
So, my plan this year? To revamp existing dresses where possible, with classic accessories that I can mix and match with anything. That's where the Fiorelli clutch came in.
Silver supposedly goes with everything, and the shape is clean and understated. So can I take it to any party wearing any outfit?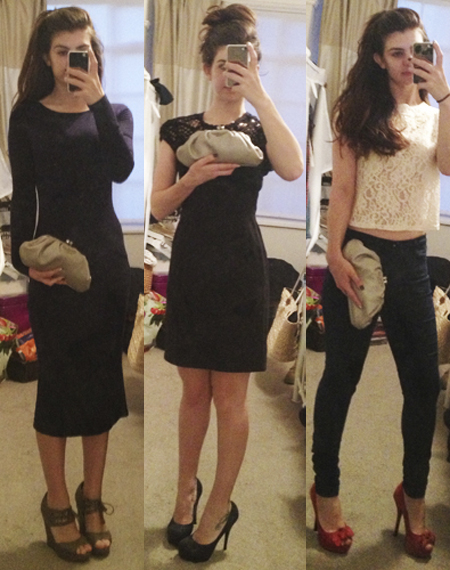 Test 1: Office Party
I'm revamping some Topshop bodycon for this, hoping that nobody else has the exact same plan or if they do, that they didn't also go for navy blue. We're going for a few cocktails and dinner at a Tapas restaurant (not particularly festive, but hey, we've got plenty of Christmas spirit to make up for it), so I want to look smart without being overdressed. The Juliet clutch works. It's a safe shade and the shape isn't too statement.
Test 2: The LBD Outing
For a friends' festive black tie bash, which is actually just an excuse to throw a party but hey, I'm down with that, I'll be recycling an
old
French Connection LBD. I need my accessories to pep it up while keeping things classy. Again, the Juliet clutch works. Phew! There's also plenty of room for lipstick, eyeliner, blush, powder brush, phone, keys, money...
Test 3: Smart Casual
Christmas get-together with the girls, and it's a jeans and heels situation. My accessories need to work hard however, as I'm in real need of 'sprucing'. I'm planning to wear bright red shoes, but will the silver bag work?
Fear not folks, though the Juliet's simple design isn't about screaming for attention, it sure is effective. I've also managed to squeeze a scarf in there for the journey home!
Christmas nailed with just one clutch bag? I'm saying yes.
What do you think? Tweet us
@handbagcom
THE 10 BEST PARTY CLUTCH BAGS
CHRISTMAS GIFT IDEAS 2013: DESIGNER HANDBAGS
MORE HANDBAGS...