Here in the UK, we love our chips with some salt and vinegar – maybe a dollop of ketchup or some
curry sauce
(ummmmmm, curry sauce). But around the globe, there are some crazy chip eating habits going down.
World food trends
Canada: Poutine
A classic Canadian dish where chips are smothered in
brown gravy
and cheese curd (pictured above). Sounds pretty tasty.
Belgium: Frietje Stoof
This means chips (frietje) with
beef stew
.
Holland: Mayonnaise
Have you not seen
Pulp Fiction
? Come on now.
Singapore: Truffle fries
Poshing up their chips – the folks in
Singapore
like to cover their chips with indulgent
truffle oil
and occasionally, grated cheese.
Romania: Mujdei
In Romania
eating chips
means you can say goodbye to that post-dinner snog as mujdei is a popular
garlic sauce
, and is often accompanied with some crumbled sheep's cheese.
Netherlands: Patatje Oorlog
Also known as French Fries War. Oh yeah. This can differ from region to region, but it usually consists of mayonnaise,
peanut sauce
and chopped raw onion. That is one tasty war.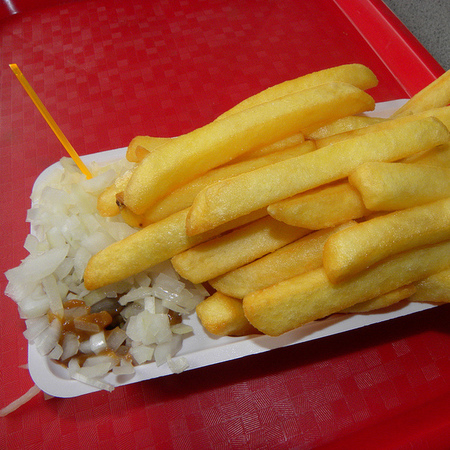 Vietnam: Sweet & butter fries
Some restaurants in Vietnam serve their chips with soft butter and a sprinkling of sugar. This may become our
pudding
of choice.
America: Chilli cheese fries
You've got to love
American food
. Chips drowning in spicy chilli and covered in cheese. What more could a gal want?
Is your mind blown? No, seriously, is it? Tweet us
@handbagcom
COMFORT FOOD CHICKEN AND CHUNKY CHIPS RECIPE
THE ONLY CHIPS RECIPE YOU'LL EVER NEED
CAESAR SALAD AND HOMEMADE CHIPS RECIPE
MORE RECIPE IDEAS