With the summer fast approaching, we're in need of a few off-the-wall
travel destination ideas
.
If you're an
avid animal lover like we are
, what could be better than a holiday seeing exotic creatures in their natural habitats?
Here's our top
6 places to visit
to see wonderful wildlife.
Swim with wild pigs in Exuma, The Bahamas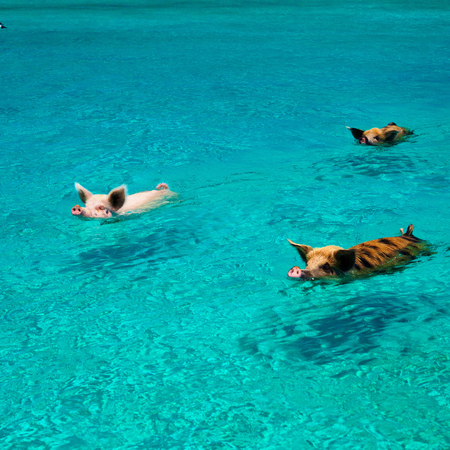 Pigs still can't fly but they
can
swim.
Victoria's Secret model,
Irina Shayk
,
instagrammed a pic of herself
swimming with pigs in Bahamas.
Off the Bahamian archipelago of Exuma, Big Major Cay is home to the wild pigs who were originally captured by sailors a long, long time ago.
They adapted to island lifestyle pretty quickly (why are we not surprised), where they roam free on land and water.
It's a pig's life.
Watch orangutans in Sarawak, Borneo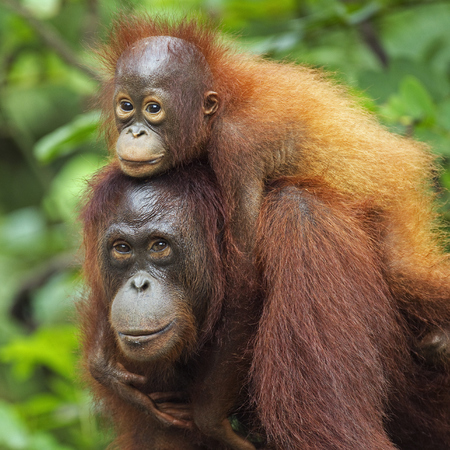 Fancy getting close and personal with a beautiful Orangutan? Well, don't go anywhere else.
Borneo's Orangutan sanctuaries at the
Semenggoh Wildlife Rehabilitation Centre
in Sarawak are the perfect place to see
these amazing creatures
.
Over 20 live in
the nature reserve
and you can see them coming down from the trees for their free meals, so on arrival head to the feeding area.
Walk with Gorillas at Volcanoes National Park, Rwanda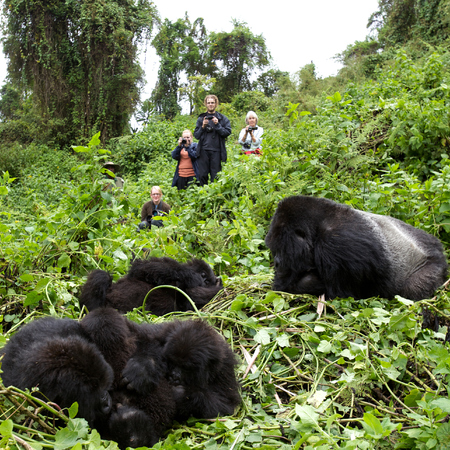 Rwanda isn't exactly
a tourist hotspot
, but in recent years its Volcanoes National Park has become well known as
the
place to see silver-back gorillas.
Make your way up the
cloud shrouded mountains
with your guide to see these spectacular creatures in their natural habitat.
Prepare for a trek and a long day but you'll be rewarded with
a truly epic experience
with your new furry friends.
Marvel at Sloths in Aviaros del Caribe Sanctuary, Costa Rica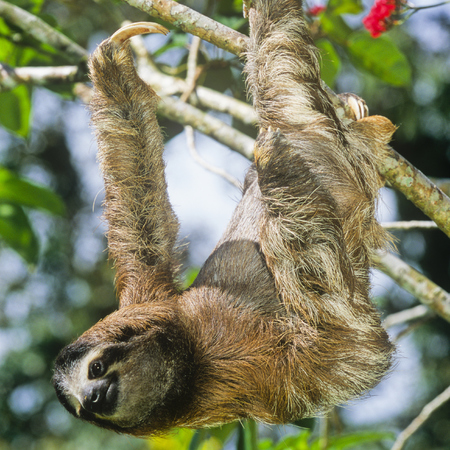 The lush island
of Costa Rica is home to monkeys, crocodiles, countless lizards, frogs and exotic birds, insects and butterflies.
But let's
not forget sloths
.
It's life in the fast lane for these guys and at this
Aviaros Sloth Sanctuary
, home to hundreds of abandoned animals, who've fallen from trees, have been separated from their mums or been victims of dog attacks.
You'll be totally awestruck when you meet these fascinating animals as they're among
the eco-friendliest
, laziest and
cutest animals
on the planet.
You may be lucky enough to hold one too.
Experience Safari in Okavango Delta, Botswana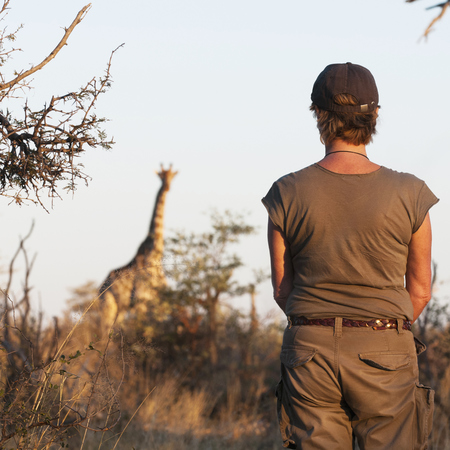 About 35% of the Botswana is designated as protected areas for wildlife so
there are plenty of places
to put yourself in the presence of lions, hippos, elephants, zebras, giraffes and antelope.
Prepare to see vast flood waters, pretty water lilies, reed beds, pristine wilderness and a vast array of amazing wildlife.
Plus, there's plenty of
great places to stay
.
Dive into the depths at The Great Barrier Reef, Australia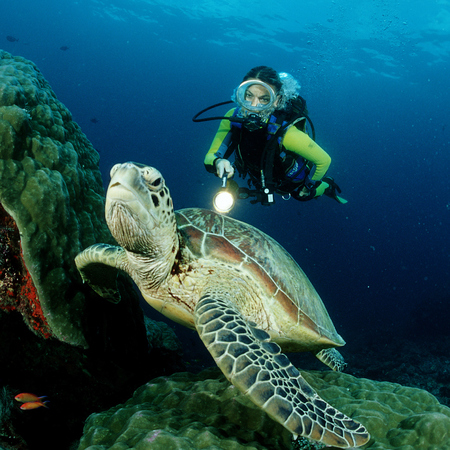 The Great Barrier Reef
is one of the seven wonders of the world and you'll see why when you dive into the depths.
The
vibrant colours
and amazing animals will leave you breathless.
Spanning 200km with the most extensive reef system on earth, it sustains a vast array of marine species, including turtles, sharks, fish and corals.
After seeing this, you'll not want to come up for air.
Any suggestions to add to the list? Tweet us
@handbag.com
THE MOST EXCITING PLACES TO VISIT IN 2014
REMOTE HOLIDAYS TO AVOID GETTING PAPPED ON
MORE TRAVEL FEATURES
LOTS MORE ON HANDBAG.COM