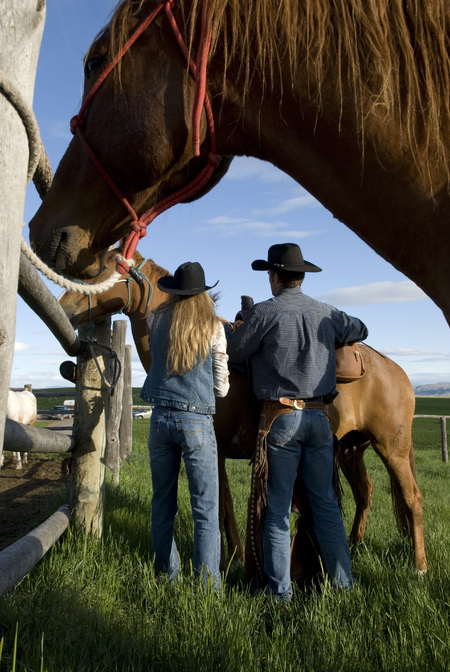 There is no better way to kick-start 2013 than in true 'cowboy' style in the land of the American ranch; Idaho, Montana, South Dakota, and Wyoming.
This year you could be riding horseback from a Rocky Mountain ranch to the West's most iconic wonders; the vibrant Yellowstone National Park, the iconic Mount Rushmore, the glorious Glacier National Park, the deep Black Hills, and the Rockie's snow-capped Sawtooth Mountains.
Sound good? Take a look at these holidays and let us know what you think in the comments box below...
Trek to Mount Rushmore on horseback
Located in South Dakota's scenic Black Hills and National Forest, the Triple R Ranch is just a stone's throw from world famous Mount Rushmore. Stay in one of many quaint log cabins, and venture out on horseback to the surrounding back country. The ranch runs nigh time trips to Mount Rushmore, to see the Presidents' faces illuminated in the night sky at the famous lighting ceremony. Take a trip to discover the cowboy town of Keystone, the famous Crazy Horse Memorial, or to see an array of wildlife, including Buffalo herds, in the wilderness of the Black Hills.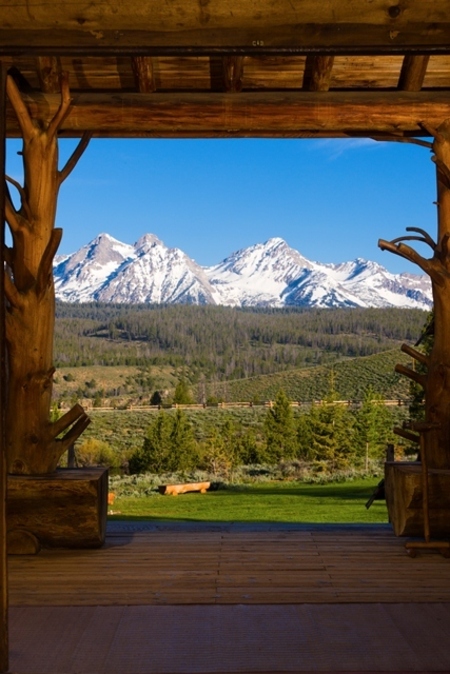 Luxury log cabins, natural hot springs, and whitewater rafting in the Sawtooth Mountains
Idaho's Rocky Mountain Ranch is nestled among the snow capped peaks of the Rockie's Sawtooth range, and within easy travelling distance of the renowned Sun Valley ski resort. The ranch boasts luxurious wood cabins with cosy rock fireplaces, and offers adventurous travellers an array of outdoor pursuits. Go horseback riding or hiking in the mountains for spectacular views, fish in a meandering salmon river, go mountain biking or whitewater rafting, or sit back and enjoy the unforgettable experience of bathing in natural hot water springs.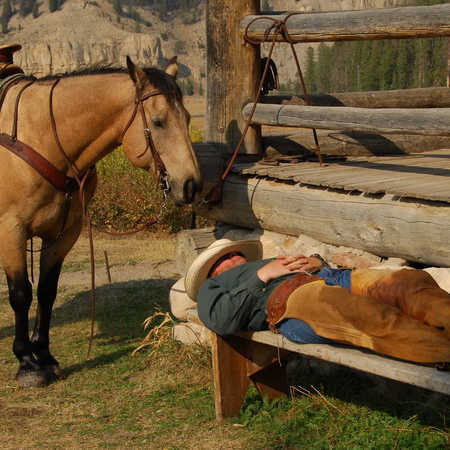 Cattle drives, grizzly bears, and riding near Glacier National Park
Adjacent to the Glacier National Park, home to some of America's most breathtaking lakes, glaciers and rugged mountains, lays Montana's Bear Creek Ranch. Travellers looking for a real outdoor adventure will find it here, as this rustic ranch offer horseback riding, trout fishing and the chance to see massive cattle drives. In May, take a 'photo safari' into the mountains to see elk, moose, deer, grizzly and black bears, hawks and eagles. Lucky explorers will spot wolves and mountain lions.
Ride in Wyoming's mountain meadows on the cusp of Yellowstone National Park
Shoshone Lodge is a charming 'all American' ranch, ideally located on the cusp of the world renowned Yellowstone National Park in Wyoming. Explorers can ride horseback into the Park's beautiful back country, or snuggle down in a wintry lodge and log cabin hidden in the woodland. Adventurous travellers can take an overnight wilderness 'pack trip' around the edges of Yellowstone National Park with fishing, before 'cosying' up to a campfire in the serene mountain meadows.
Would you go on an adventure holiday?
Leave a comment below to
be in with a chance of winning a £100 goodie bag
.
BRITS ON TOUR: KINGSTON UPON THAMES
ORLANDO, FLORIDA - IT AIN'T JUST FOR KIDS
HOLIDAY LIKE A CELEB IN 2013