In the know travellers are packing their bags, buying new swimming costumes and heading North to the chilly Nordic region of Reykjavic in Iceland.
Don't be fooled by the cold weather because Iceland is one of the best places to experience natural lagoons of steaming water, warmed by geothermal activity.
The Blue Lagoon Spa
is set at the heart of Iceland's rugged landscape and it's the perfect destination for travellers looking for romance, relaxation and rejuvenation.
After soothing tired muscles in the heated pools you can enjoy a full body massage before ordering a tipple in the Lagoon Bar and an indulgent dinner for two on the outdoor deck of the Lava Restaurant.
For couples seeking a bit more privacy, there's a 'Romantic Couples' package that gives you access to the Exclusive Lounge, that includes six private changing rooms, a private indoor lagoon, spa treatments and complementary refreshments.
Entrance to this little pocket of paradise costs from 38 euros (£32) per person until 31 May, but couple's who opt for the more romantic package are looking at a combined cost of 434 euros (£366).
To turn this spa retreat into a holiday you'll need to stay in a hotel, of course! Here are two of the best options we've found with a little help from Expedia.co.uk.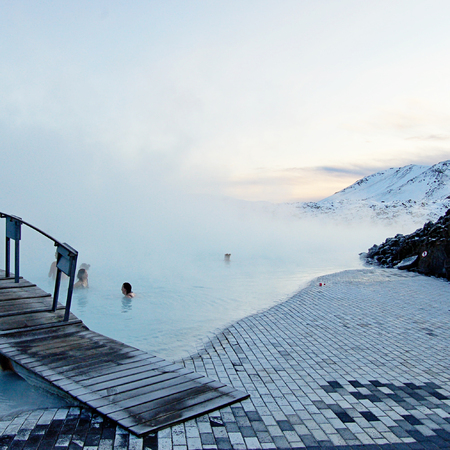 Weekend Valentine's break:
Stay at the Hotel Reykjavik Centrum from £668 per person (inc. flights)
This four star hotel has maintained its traditional design and is located in the oldest part of Reykjavik. Soak up the culture while you're there with a trip to the Icelandic parliament, which is just a stones throw away.
And for those who've got a bit more time...
Stay at the Grand Hotel Reykjavik from £465 per person (inc. flights)
This is another four star with a health club, spa and bar lounge to boot. Its incredibly convenient location means Nordic newbies can visit Laugardalsvollur (the National Stadium of Iceland), Hallgrimskirkja (the largest church in Iceland and one of the tallest architectural structures in the country) and the Laugavegur shopping district.
For reservations, visit
expedia.co.uk
or call 0800 783 2384.
Do you fancy a hot springs break?
Leave a comment below to
be in with a chance of winning a £100 goodie bag
RUSSELL BRAND'S HIMALAYAN YOGA HOLIDAY
EXPERIENCE A WORLD CLASS POOL PARTY IN MARBELLA
HOLIDAY LIKE KATE MIDDLETON IN THE CARIBBEAN