Kate Middleton
and Prince William took a detour out of London to visit Warner Brothers' Leavesden Studios today for a magical *ahem* journey around Harry Potter land.
The pair were spotted giving their best 'Expelliarmus' impression on the Diagon Alley set before Prince Harry dragged them off to the costume department for a look at Hagrid. No, seriously!
Handbag.com visited the impressive studio tour earlier this year and we were absolutely blown away!
Upon arrival the atmosphere is undeniably electric. The tour starts in a darkened room where guests are told to watch a video about the cultural influence of Harry Potter across the world. If you weren't impressed before, you definitely will be once you hear the facts and figures!
Next you are led into a cinema, where a short film starring Emma Watson, Daniel Radcliffe and Rupert Grint bursts on to the screen. Now, here comes the really impressive part...once you've watched the film the whole screen lifts up to reveal the main entrance of Hogwarts. And it's life-sized, made out of stone and the exact entrance used in the movies.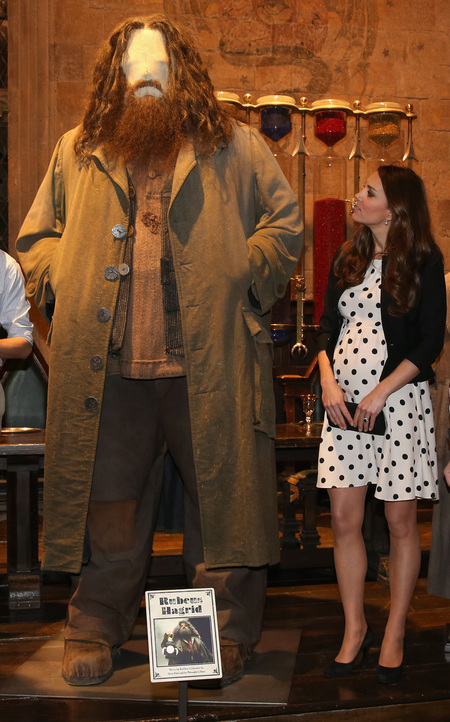 Once you've entered the magnificent doors of Hogwarts castle you're launched into the Great Hall, one of the most iconic sets of the eight films. It's impressively vast, incredibly well made, and the attention to detail is staggering.
Quickly you learn (rightly so) that it took a lot more than Daniel Radcliffe to create the enduring memory of Harry Potter. The artistic directors, set designers and prop masters associated with this film franchise deserve some sort of medal.
Props that spend mere seconds on screen have been lovingly handmade, real wizarding letters have been written and stuffed into Dumbeldore's desk drawers simply to help Michael Gambon get into character and costumes are embroidered to dizzying perfection. Guides and signs adorn every structure and every minuscule prop to reveal secrets from the production. Quite simply, the whole thing is breath-taking.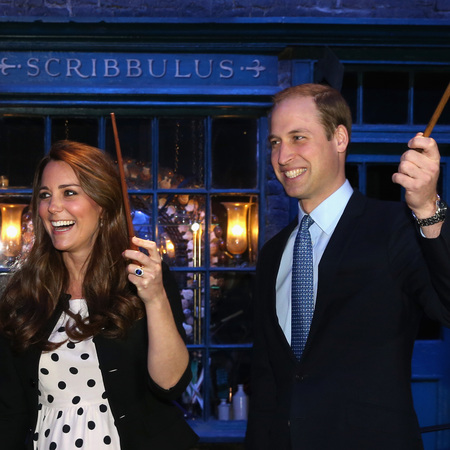 Then it's time to head to Diagon Alley. The eponymous shopping street where Harry and his magic-mates go for the essentials – wands, cloaks, brooms, you know…that sort of thing. Just when you thought the tour couldn't get any more awe-inspiring you hit the real cobble stones of this fantastical street. Even die-hard Potter haters would think twice before criticising this bad boy.
Finally, the maze ends at the 'to-scale' model of Hogwarts castle that was designed for the long-sweeping shots used throughout the eight films. We were expecting a two by four model on a piece of plywood, but the sheer size and detail of this monster construction made us want to read the books all over again.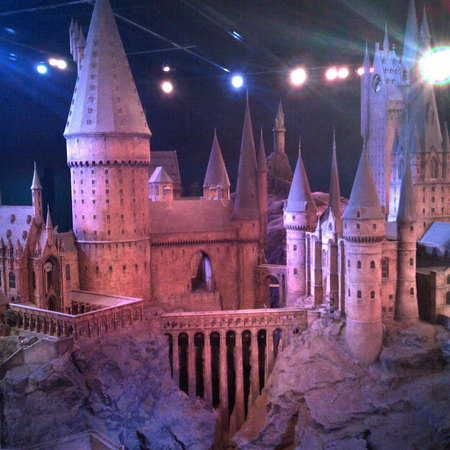 The Harry Potter Studio Tour at Leavesden Studios is just 20 miles North West of London. From the capital, we hopped on the 20-minute train journey to Watford Junction where a decked-out Harry Potter bus is ready to deliver revellers to Warner Brothers' open arms.
Tickets cost £28 for adults and £21 for children. Bus transport from Watford Junction costs £2 return. For ticket information and prices
click here
.
Have you been to the studio tour? What do you think?
GO ON A GIRL'S HOLIDAY TO MIAMI LIKE CAROLINE FLACK
VIRGIN HELPS PASSENGERS 'GET LUCKY' ON FLIGHTS
HEAD TO NEW YORK THIS JUNE TO CELEBRATE GAY PRIDE
LOUIS VUITTON LAUNCH TRAVEL BOOKS