Want Maldives-worthy white sand, sea so blue it looks like someone turned the colour contrast up and hotels so luxurious you'll forget you're not actually famous?
Celebs like Rihanna, Gwyneth, Heidi Klum and Leo Dicaprio have all been flocking to the flip-flop shaped island of Sardinia lately. But if your budget's more Easyjet than private jet, picking an all-inclusive resort on the Costa Esmeralda offers all the glamour (and great beaches) without spending your monthly salary on a mojito.
Where should you stay?
For five-star splendour you can't beat the hotel Valle dell'Erica, which we road-tested for you, purely in the interests of research of course. The view of the sea from just about everywhere on the resort (even the shower in our room!) gave us the first of many 'pinch me, I'm dreaming moments'.
If you've got small ones in tow, you might prefer the nearby Le Dune Resort for kids' clubs, mini-me menus and activities-a-plenty. In a big group? Rent an apartment for six at Hotel Relax Torreruja in Isola Rossa. And coupley-couples can PDA to their heart's content in the secluded and peaceful Hotel Capo d'Orso, complete with butterfly-filled herb gardens, infinity pools and hidden sunbathing platforms. Bliss.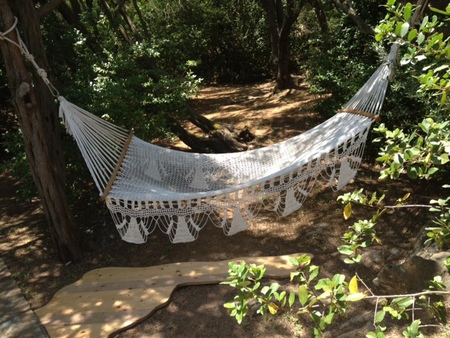 Is the food good?
Be warned: Sardinian food is dangerously amazing. They have pasta as a starter and whether you opt to fill your boots at the hotel buffet (hello dessert counter!) or visit the resort's la carte restaurant, we felt like we'd died and gone to foodie heaven. Make sure you try carasau - a special Sardinian crisp-bread (a bit like popadoms) flavoured with rosemary and garlic.
Where can I bump into Rihanna, then?
Ri-Ri hired a yacht for her Sardinian vay-cay and your Delphina hotel can charter you a speedboat (complete with a driver who looks like an Abercrombie model) so you can swim, snorkel and selfie on secluded beaches. For more celeb-spotting (and super-yacht ogling) head to Porto Cervo, home to eye-wateringly expensive restaurants and more posh shops than that scene in
Pretty Woman
.
What else is there to do?
Away from the blinging beaches there's a rustic side to Sardinia that's worth exploring. Take a boat trip to the nearby island of La Maddalena, a pastel-washed village that looks like it's been instagrammed. Or to really experience traditional Sardinian life, visit The Ethnographic Museum in the ancient stone village of Gallura, which recreates rural crafts and traditions.
Want to work off some of that pasta? Take a windsurfing lesson and soak up the panoramic views at Porto Pollo beach. But if that all sounds like too much hard work, the Thalasso spa centre at the Valle dell'Erica offers open-air hot and cold sea-water spa pools, stress-busting treatments and an acro-yoga studio.
Any good bars?
Don't miss 'Aperitif' time before dinner, where you can sip a 'spritz' (Aperol and prosecco) on the hotel terrace and watch the sun set over the coast. If you're feeling flush, head to Flavio Briatore's Billionaire Club - it looks like a shack but is actually a super-swanky club during the summer.
If you prefer a more low-key party, the Valle Dell'Erica's bar is the place to be, with live music, karaoke and impromptu salsa lessons every night. If you're feeling shy just remember: You can't sing, you can't dance, but who cares, you holiday like Rihanna.
The facts
Rooms at Valle Dell'Erica start from from €280 per night, half-board.
Rooms at Le Dune Resort start from €156 per night, half-board.
Rooms at Hotel Capo d'Orso start from €300 per night half-board.
An apartment for five at Hotel Relax Torreruja starts from €900 for 7 nights self catering.
Flights with EasyJet from London Gatwick, Luton and Bristol start from £29.99 visit
Easyjet.com
.
For more information visit:
www.delphina.it
and
justsardinia.co.uk
.
NEW YORK GUIDE: BUSHWICK, BROOKLYN
HOW TO TRAVEL SOLO AND STAY SAFE
TOP 5 OVERSEAS WEDDING DESTINATIONS