Tempted by a holiday at sea but fear it might not be an age-appropriate adventure? Think again, it's more perfect than you might imagine...
1. A new day, a new destination
Imagine waking up in a new country every day. For those with a thirst for travel, but short on cash and time, cruising is a brilliant option. There are plenty of itineraries close to home in Europe (such as the
MSC Cruises Mediterranean
option), or across the pond around North, Central and South America.
There's nothing more delightful than being gently woken as the sun rises outside your cabin, and the lights of landscapes from somewhere new and fantastic glimmer in the distance; followed by a day's guided excursion (or independent wandering, if that suits) in a foreign land. Sure, the travel options are generally short, but they're ever so sweet, and enough to soothe the craving for something exotic.
2. It's not just grannies
On board a cruise liner, you'll discover an array of chic spaces − cafés, lounges, clubs, bars, pool decks − brimming with a like-minded 18−35 set who hail from interesting backgrounds. There are plenty of chances to strike up a conversation too, whether it's while sampling the old perfumer's fragrances in a back alley of Tunisia, or raving the night away in the ship's nightclub overlooking the ocean. You might make a new BFF, discover the love of your life − or at least strike up an at-sea romance − all good either way, right?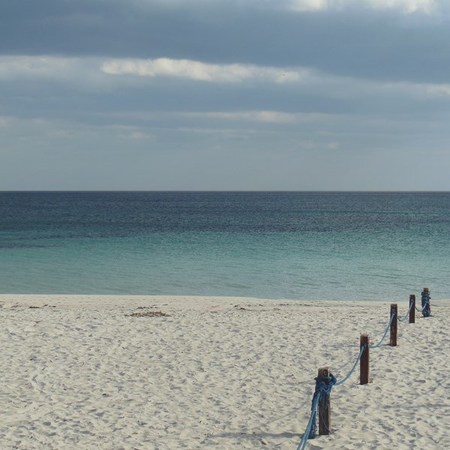 3. Rest and reset
Cruises are ideal for busy people who want the best of what a resort holiday can offer with travel adventures thrown in. A break at sea means a few days lounging about in the sun, eating and drinking whenever you desire, and nipping off to shore for a travel interlude at your discretion. Nap, drink, walk, exercise, wander, photograph, write, dance, swim − do whatever you want, whenever you like − it's all within an easy, pleasurable walk or elevator ride.
4. No worries
How about a holiday where you don't have to worry about a thing? Nothing. At. All. The majority of large cruising groups organise absolutely everything for you. Flights and transfers, onward travel, luggage is taken care of, and food is included. Every day you received a newsletter under the door to your cabin which outlines activities, deals and special events for the coming 24 hours. Refreshingly easy.
5. Be fabulous
The majority of big cruise liners are luxurious, lavishly decorated with plush furnishings. Grand pianos, comfortable lounges, chandeliers and magnificent staircases made of Swarovski crystals − it feels like a scene straight out of
Revenge's
Grayson' manor. Each club and restaurant area is adorned in designer style, yet there are different themes to each venue. Still, the rooms with a view to water usually draw the crowds, and it's easy to live like a wannabe movie star, even if for just a few days.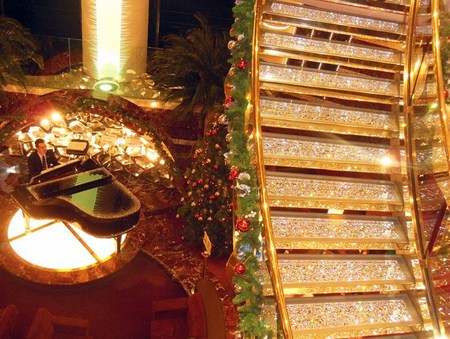 6. It's a bargain
There's been a little bit of negative press about cruising over the past few years, however if you put into context the few ships that have encountered issues, compared with the hundreds of journeys embarked upon each year, 99 per cent of travellers would advocate this being an extraordinary option for a holiday. By the time you factor in that the price includes accommodation, food and experiences, it's a bit of a steal and terrific for anyone wanting to live a 5-star life on a budget.
7. Personal development
Whether you want to learn a skill, meet new people or dare we say it, find yourself, there are plenty of options for developing your enlightened inner (or outer) self. From yoga and meditation to wine appreciation, salsa dancing, theatre and mixology − every day a plethora of exclusive activities are made available to guests keen to try something new, and generally these are totally free to attend. Not only will you return home refreshed, revived and happily travelled, but you may have gained new skills to show off to your mates.
Sarah Blinco blogs at TravelLiveLearn.com, tweets @sarahblinco and you can see her cruising dairies on YouTube.com/theSarahBlinco
BANGKOK CITY GUIDE: SURVIVING THE CRAZY THAI CAPITAL
THE BEST GADGETS FOR SUN, SEA & SAND
SNEAKY SARDINIA: VISIT THE CELEB'S SECRET HOLIDAY SPOT