How do you choose where to go on holiday? Do you randomly pick somewhere off a map, quiz friends for recommendations or like an increasing number of holidaymakers, pick a destination based on your favourite TV show or film?
The Post Office conducted a study into people's holiday choices and discovered that one fifth (19 per cent) of people now admit to being 'TV tourists.' Whether in search of
Sex and the City
-style glamour of New York or the up-market world of
Pretty Woman
in LA, millions now scour the globe to visit the place that inspired their favourite show.
So which were the most popular destinations? And what can you do there?
1. New York
Inspired by: Sex and the City
Want to walk in the well-heeled footsteps of Carrie and co? Then New York is the place to do it. The official
Sex and the City tour
(Yes, it does exist) suggests visiting the place where Charlotte buys her Rabbit, and scouting out the bar owned by Steve and Aidan, but we say the only way to pay homage to Carrie B is with a trip to her apartment.
But although she gives the address as 245 E on 73rd St, you won't find it - it's not real. Instead, head to 66 Perry St (between Bleeker & W 4th St) and park your bum on those famous brownstone steps. A subsequent trip to Manolo Blahnik next to the Rockefeller Centre is also recommended.
2. HawaiiInspired by: Forgetting Sarah Marshall
If you want to relive the awkwardness that was Peter (Jason Segel) bumping into his ex and her new boyfriend Russell Brand in Hawaii, head to the beach. Take your flip flops to the Turtle Bay resort on Oahu, Hawaii, where he discovers Sarah is also on her holibobs.
While you're there, make a trip to La'ie Point - the location for the cliff-jumping scene. Go on, we dare you to be as brave as Mila Kunis and dive in!
3. Los Angeles
Inspired by: Pretty Woman
When rich and handsome Richard Gere, gets lost in the sprawling city of LA, he stops in Beverly Hills where he meets hooker Vivian (Julia Roberts). Now we're not suggesting you frequent the street corners, but you can still live the
Pretty Woman
dream by heading down to Rodeo Drive.
In fact, due to filming restrictions, Roberts was actually strutting down Santa Monica Boulevard. But you can still visit Boulmiche, the boutique where the snooty assistants refuse to serve Vivian and then later get their comeuppance.
Over on Hollywood Boulevard is the luxurious Beverly Wilshire, where the unlikely couple stay, but we'd recommend going to the Las Palmas Hotel a bit further north. It's here you'll see the fire escape that Edward climbs to get his woman.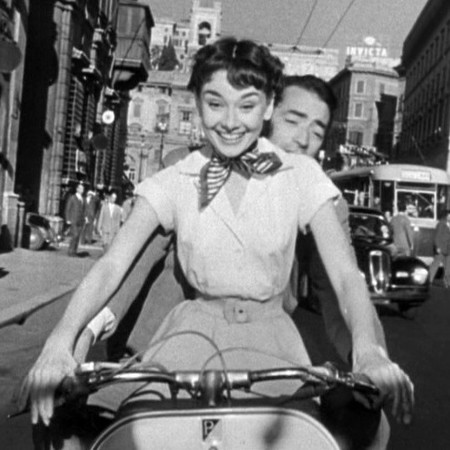 4. Rome
Inspired by: Roman Holiday
When Princess Ann (played by the dazzling Audrey Hepburn) secretly leaves her country's embassy to experience Rome on her own, we experience the sights and sounds of the city with her. Head to the Trevi Fountain to relive the moment when Anya gets her hair cut short in a barbershop, and grab an ice cream on the Spanish Steps, as she did when she 'accidentally' bumps into undercover journalist Joe.
If you can do all this on a Vespa, even better, as that's how the two characters move between iconic locations including The Colosseum and the Piazza Venezia.
And don't forget to stop off at the Mouth of Truth - the face carved in marble which is said to bite off the hands of liars. When Joe pulls his hand out, it appears to be missing, causing Anya to scream. It was tucked in his sleeve all along, obviously. Pull the same trick on your boyf and see what reaction you get.
5. Venice
Inspired by: The Tourist
OK, so we didn't love this movie, but we'll admit the Venetian location was pretty stunning. Unfortunately for people wanting to stay at the hotel featured in the movie, a little trickery was involved.
While the lobby scenes were filmed in the real Hotel Danieli in Piazza San Marco, the rest were filmed at a private residence, which was transformed on the outside to resemble the hotel's entrance.
It was the same story for Carnival scenes. If you want to stand on the same spot and Ange and Johnny, head to the Scuola Grande Della Misericordia in the Canareggio district, where the crew spent a painstaking three weeks reconstructing the 18th century building completely, and building a mezzanine from scratch.
THE BEST PLACES FOR A STAYCATION THIS SUMMER
FIRST TWITTER HOTEL TAKES HOLIDAY FLINGS TO A DIGITAL AGE
BANGKOK CITY GUIDE: SURVIVING THE CRAZY THAI CAPITAL